Top 5 Home Design Trends in 2021
Even though we are only a few weeks into 2021, we have seen some new (and continuing) trends from our buyers and our Instagram feeds.
Home design is all about creating a space that is functional, comfortable, and most importantly, a reflection of your style. Whether that be adding a pop of color with a bold accent wall or mixing your metals in your kitchen, each style is unique and should be celebrated.
We are here to share some of the trends we have seen and hopefully inspire you to make a statement with your home design.
Make a Statement Green Cabinets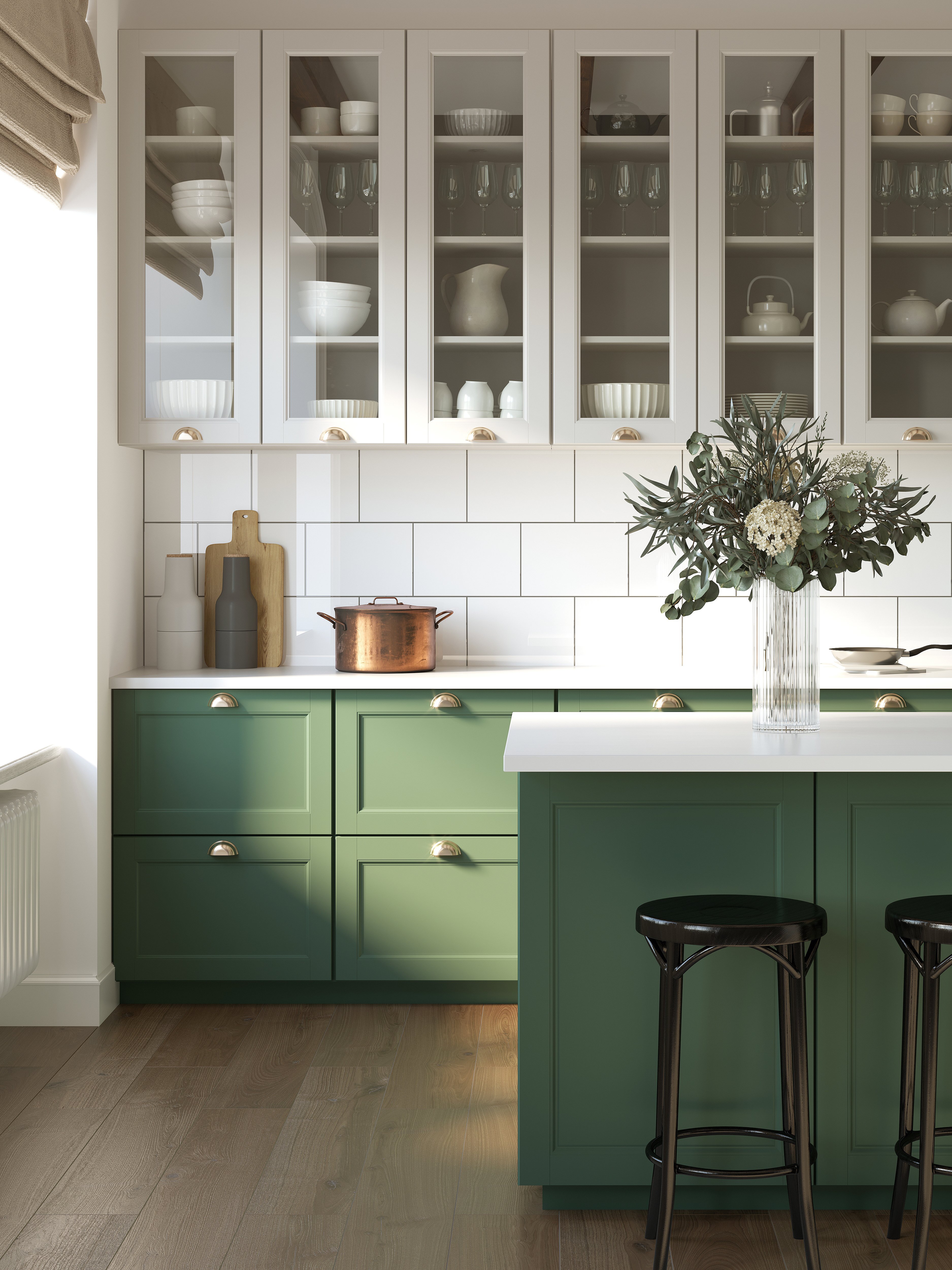 You may have seen green cabinets pop up more often in your Instagram feed this year — and for good reason.
A color that embodies tranquility, health, and nature, green is more than a passing trend. Green offers a stunning spectrum — ranging from a bold emerald to a soft sage — which can enhance the style of any space. When you add green cabinets to your kitchen, you can draw inspiration from nature and create a cozy environment that brings the outside in.
Depending on the other finishes they are paired with, green cabinets can give off a modern feel or a county vibe. At Dostie Homes, we enjoy pairing green cabinets with gold accents and warm-toned stained woods for a sophisticated look.
Mixing of Metals
In every room of your home, you will find a plethora of different tones, textures and even metals. When designing your dream home, you may think that all of your textures and tones need to match but that isn't the case — and we've seen that to be true year after year.
Consider mixing your metals. Combining bronze, nickel, and gold (just to name a few) is a great way to add texture and visual interest to a room.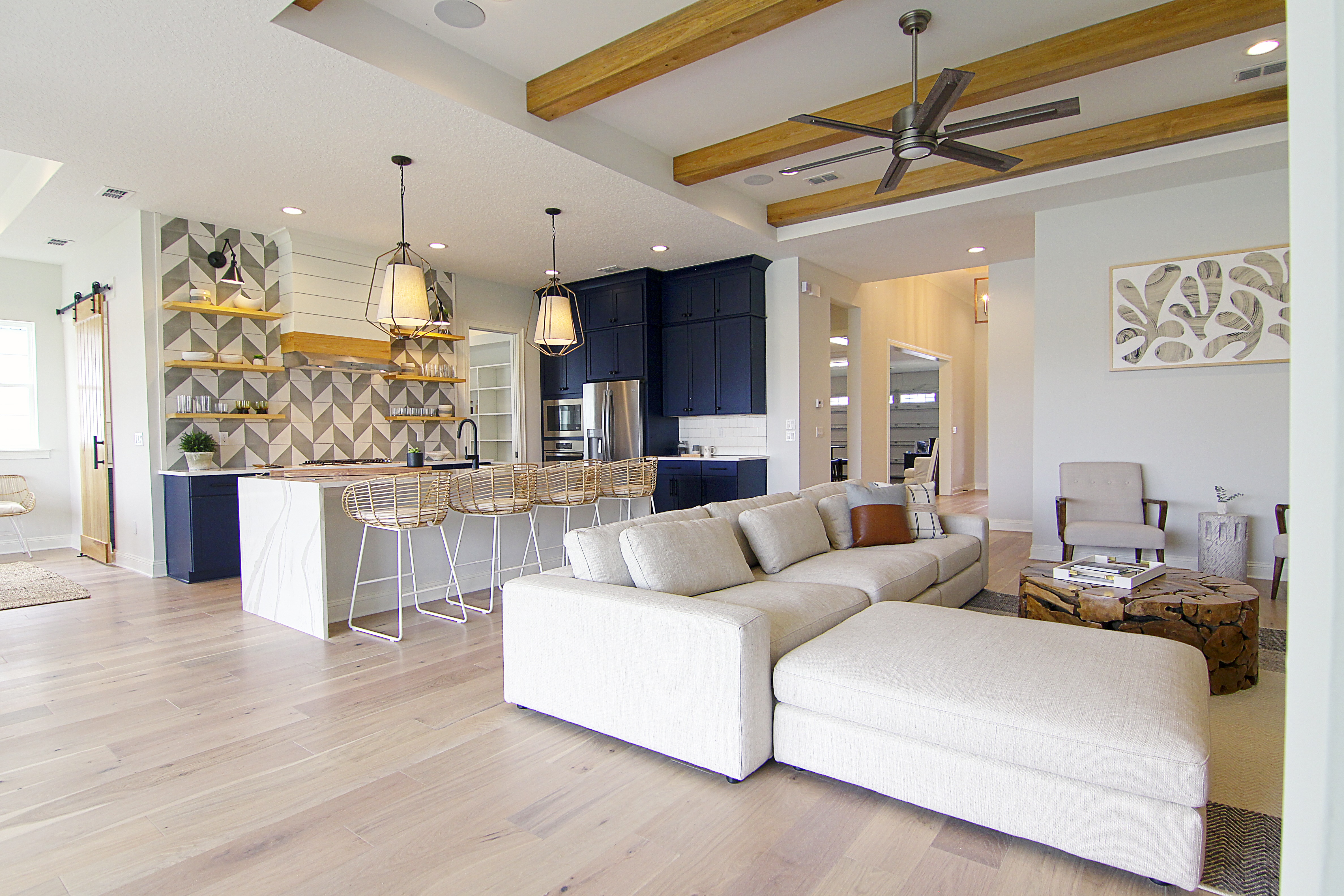 One space to easily accomplish this trend is your kitchen. Our Anastasia home features stainless steel on the hood and other appliances, bronze light fixtures, and a matte black faucet and cabinet hardware.
A Quiet Space to Work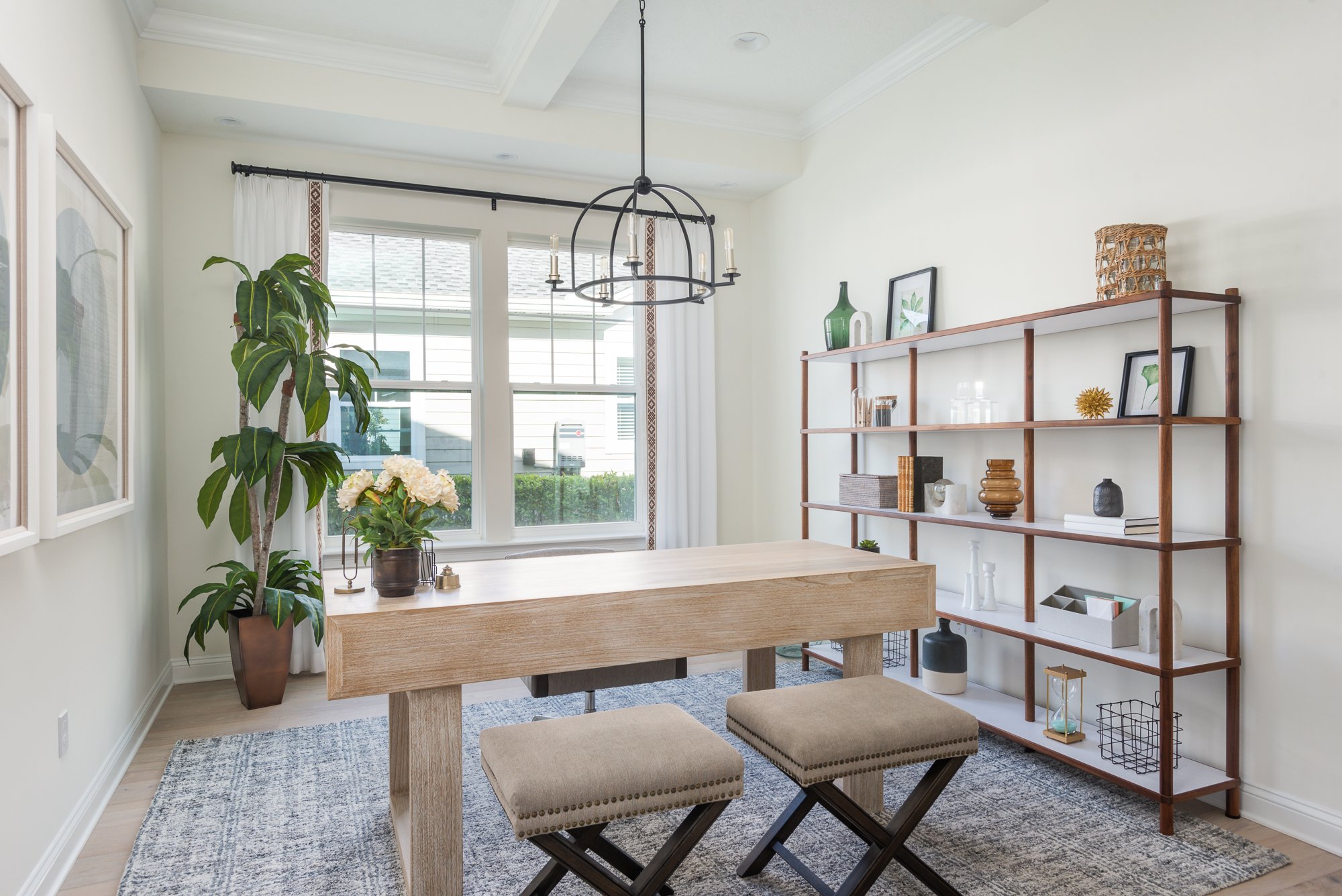 From our Acadia home in the Crosswater Nocatee Community
Because more and more people are adapting to the work from home life, home layouts are going through an evolution. The open-concept spaces we all love are proving themselves to be less functional when zoom meetings are a common occurrence in everyday life.
People can still enjoy an open concept living room and kitchen space but a segregated home office with a door is more important than ever before. Separate workspaces in your home are not only trendy and block off the day-to-day life happening on the other side of the office door, they also promote productivity and efficiency.
Technological Home Advancements
Along the same lines as the home office, people are gravitating more towards technological advancements in the home.
Adding a Ring Doorbell to your home can help you see who's at the front door and avoid wasting time speaking with door-to-door salespeople.
Smart thermostats such as the Nest or Ecobee4 are also a new favorite that helps promote productivity. According to a study from Cornell, "when temperatures were low (below 66 degrees Fahrenheit) workers made 44% more mistakes than at optimal room temperature of 77 degrees Fahrenheit." With the ability to program a smart thermostat, you will never have to worry about forgetting to change the temperature.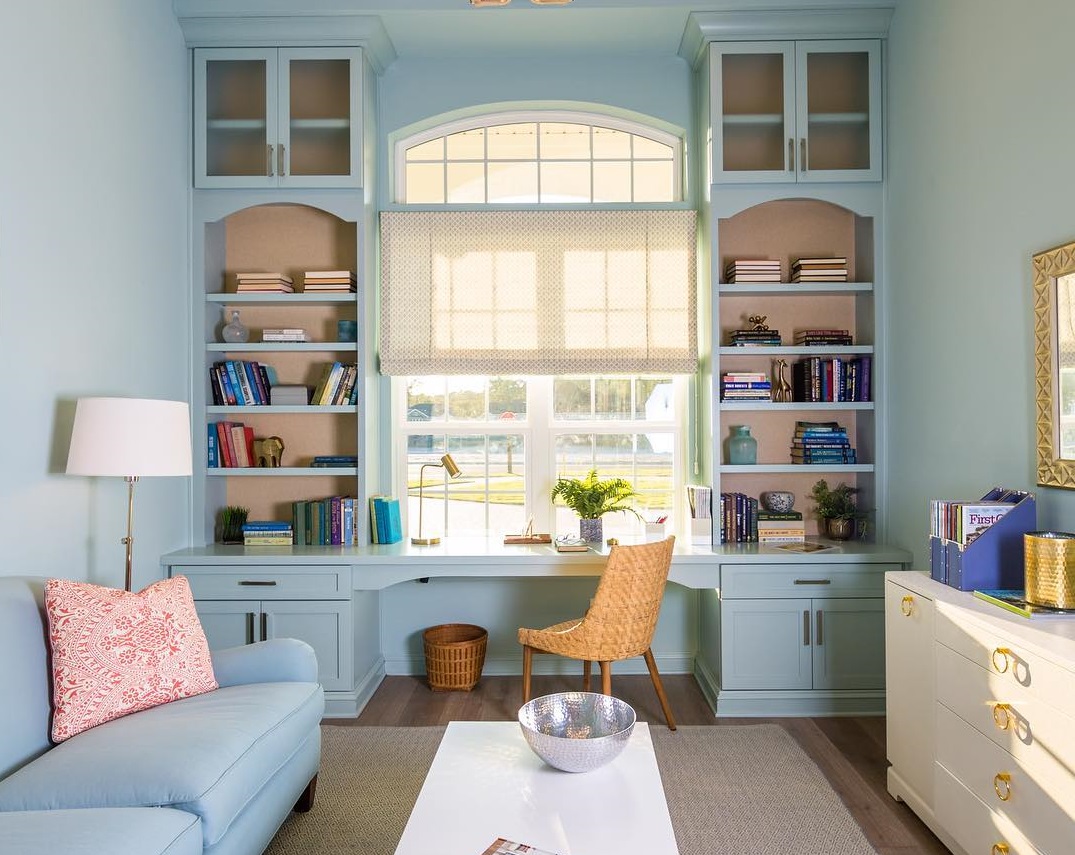 From our Thoreau home in the Twenty Mile Community
The edition of built-in shelving with smart plugs and lighting can help set the tone for a productive workspace.
After you've had a long day at work, the last thing you want to worry about is how long it will take to heat up your shower. With the Moen U Home System, you can turn on your shower and even set your ideal shower temperature from your phone.
Add More Color to Your Home
We all love the sophistication and class that comes from a neutral color palette but a popular trend we are seeing in 2021 is the addition of more bold colors in the home. And this can be achieved in many ways.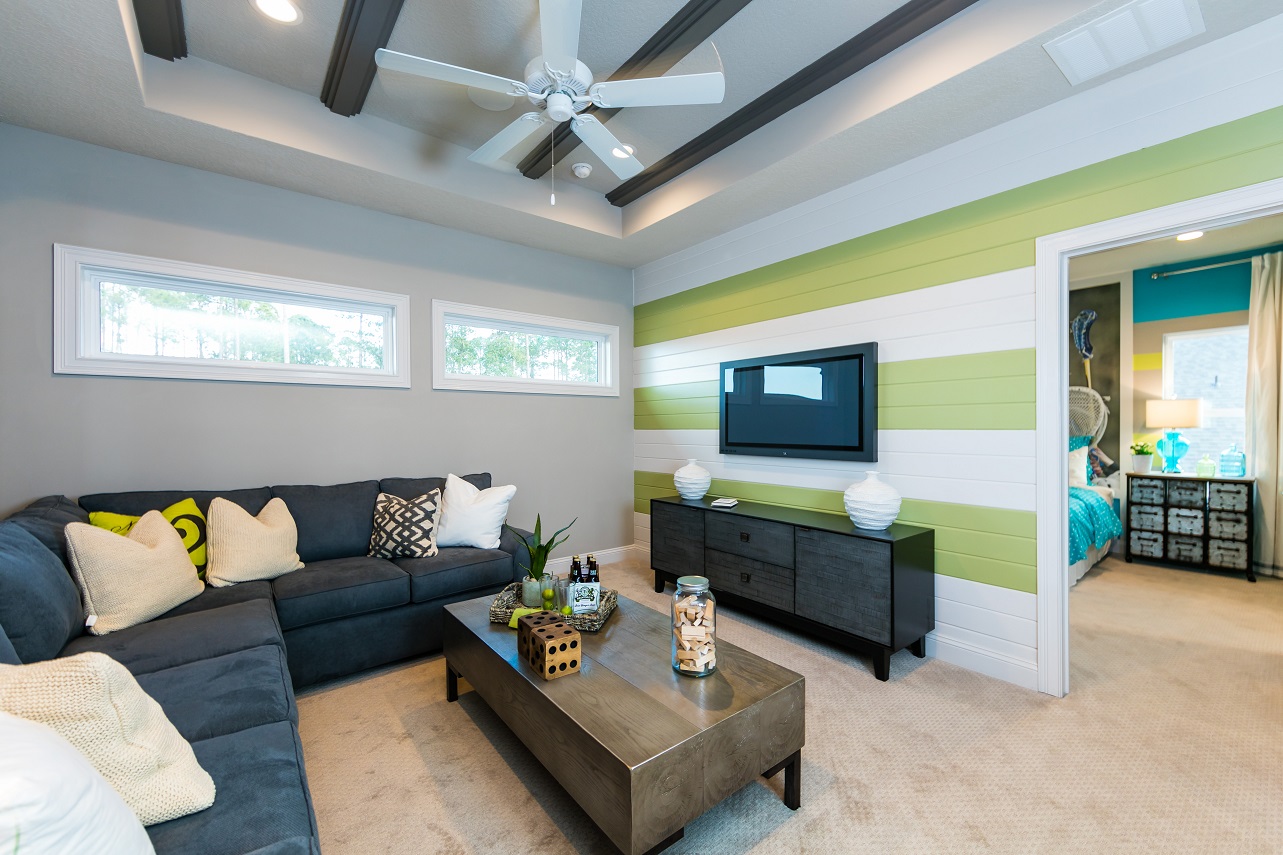 Paint is a popular way to add a pop of color. As you can see in our Hemingway Coastal home, we incorporated a beautiful, striped accent wall. By adding a hint of green, we were able to achieve a colorful vibe without overpowering the space.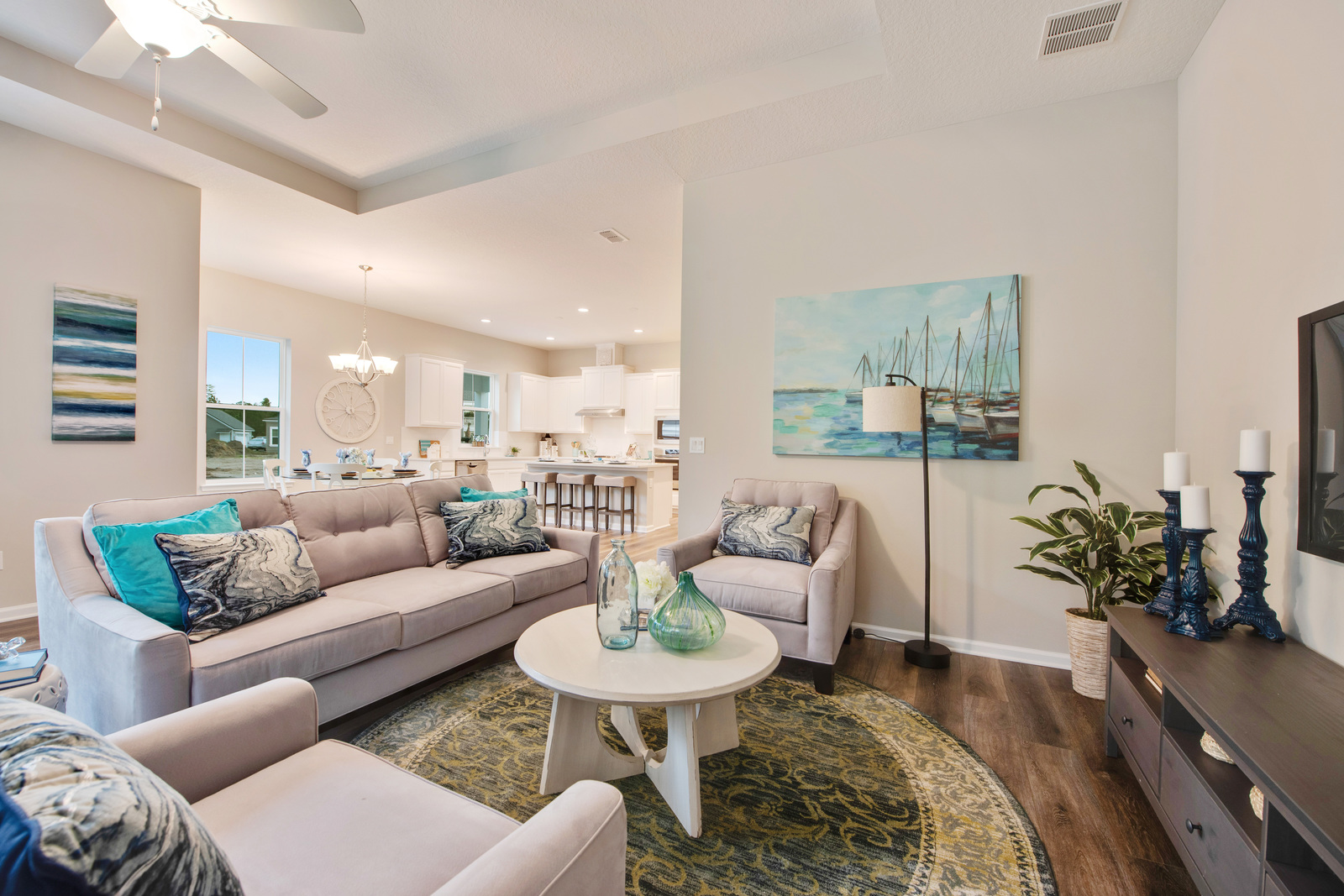 If you aren't ready to permanently commit to a color, the addition of colorful home décor can add just the right amount of vibrancy. The colorful pillows and rug in the living room from our Beaufort home in Wildlight, Florida adds just the right amount of excitement without adding any paint to the walls.
Designer Hood Surrounds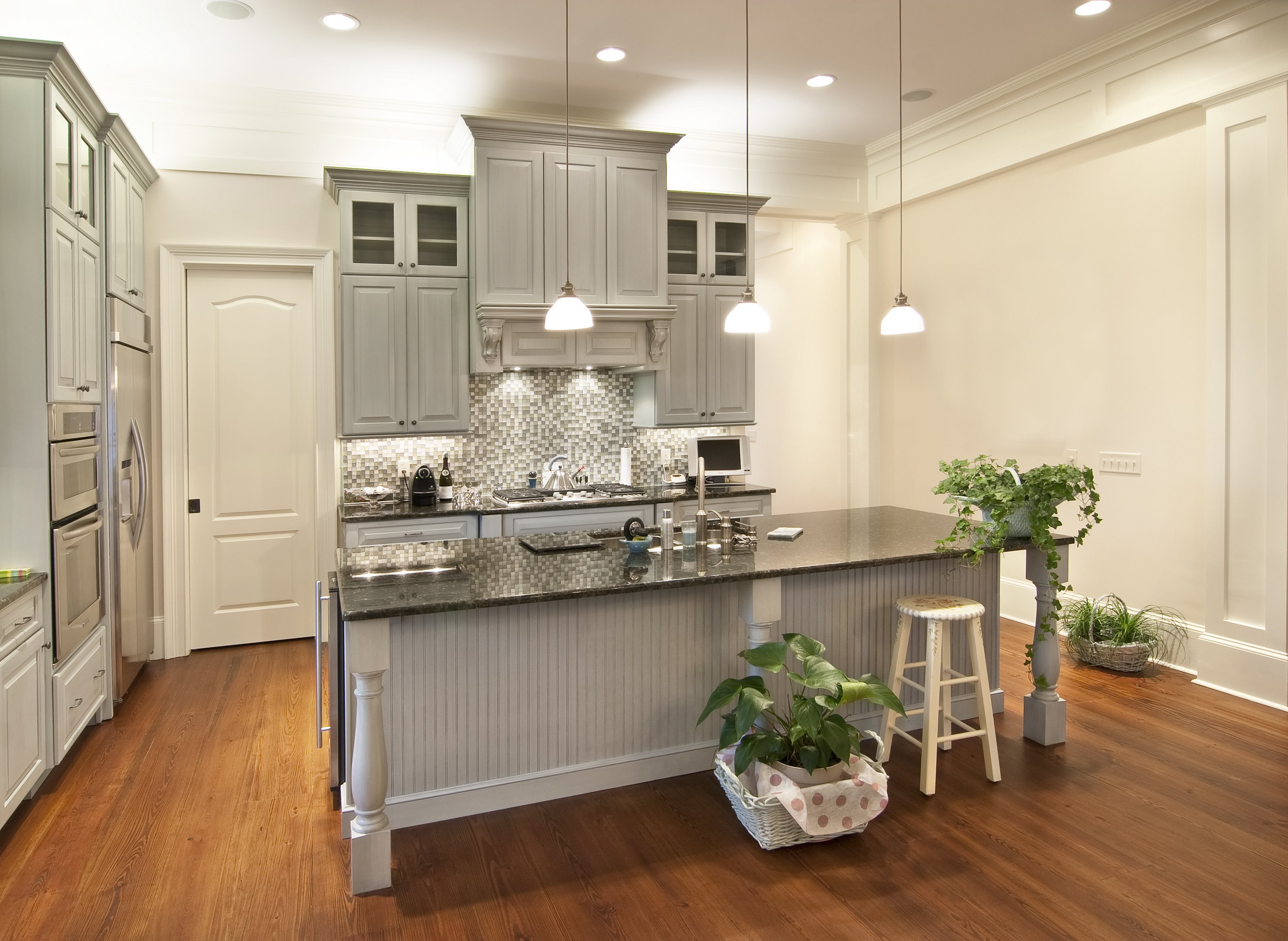 A popular, yet pricy trend is a custom cabinet hood surround in the kitchen. Unless your kitchen is designed with an industrial look and feel, no one enjoys a metal hood in their kitchen.
To combat this, a custom piece of cabinet is built over your hood to offer a clean and sophisticated look. When considering this fancy edition to your kitchen, be prepared for the fancy price tag that comes along with it.
< Back to Blog