12 DIY Holiday Decoration Storage Hacks
The 2021 holiday season is officially ending, and it is time to start deconstructing your holiday decor. One of the biggest problems is realizing that you have added more decorations this year and nowhere to store them. Many homes are filled with attics or closet space that is already compacted with seasonal decoration and other assorted items. It is times like this where creativity is the answer to your storage woes and to do it without spending extra money. This blog will show you 12 clever DIY storage hacks with everyday items in your home.
Dealing With Tangles
#1

- Plastic Bottles
When decorating your Christmas tree, some of you might have used bead garlands, and if you can remember how frustrating this year's unpacking was, you can appreciate this life hack to keep from detangling these accent pieces.
Solution
To store them all it takes is a 12 oz water bottle. Take off the cap and layer the garland inside. Each bottle can fit two garlands.
Source - Bottled Bead Garland Container – Tip Junkie
#2

-

Cardboard Boxes

Christmas lights, the ultimate tangle frustrations. Many of us are guilty of throwing away reels and ties that come with Christmas lights; however, not all is lost. Come Christmas day, you want to make sure you save those boxes that usually get shredded down.

Solution

This hack is also simple; instead of stuffing the boxes with the lights, wrap them around the box and cut a notch to anchor the lights in place. That's it, lights check!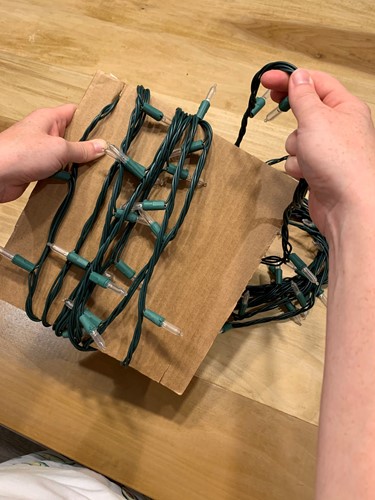 Source: Easy DIY Holiday Light Storage Ideas = No More Tangled Strings
#3 - Extension Cord
If you have Christmas lights that are exceedingly long, this can also prove difficult to put away without tangling them.
Solution
Around the house, if you have some extension cords that you're not using. Depending on the length of the lights, you can wrap them around the cord and then roll the extension cord up. Pretty easy hack!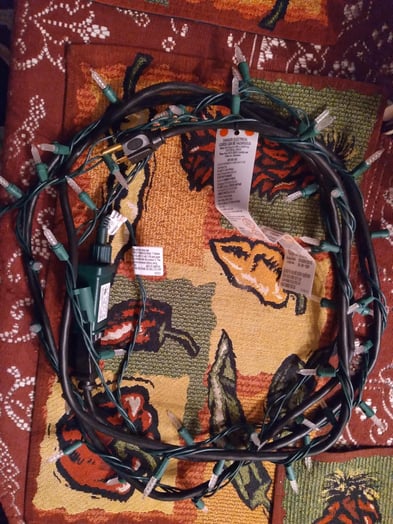 Source - (426) Pinterest
#4
-

Paper Towel Tubes
Some of your lights might be shorter. For lights, less than 5 feet, use a common household item that is always around, toilet paper tubes or paper towel tubes. Easy storage and fewer tangles!
Solution
Take your paper towel tube and wrap your lights around the outside. When they're all wrapped up you can cut a slit in the end of the tube to anchor the end of your lights, so they don't unravel.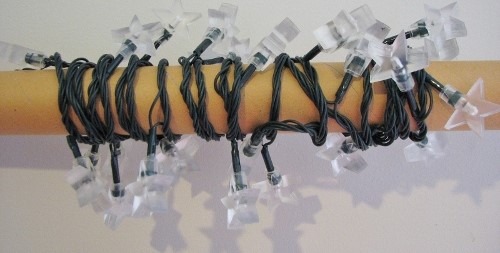 Source - Holiday Light Storage Ideas No More Tangled Strings (onecrazyhouse.com)
#5 - Old Wire Clothes Hangers
If you still have some old-school wire hangers lying around, put them to use! You can wrap your lights around these hangers to stow your lights away, though it might need some more elbow grease than these other hacks.
Solution
First, you will need to unfold the wire hanger; we suggest doing a bunch at once. Wrap your lights clockwise fashion, and then roll the wire around compactly, and you are done!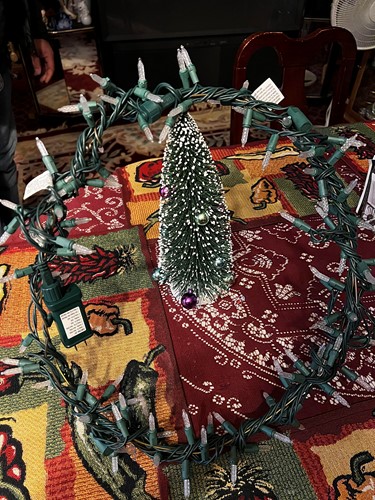 #6 - Plastic Clothes Hangers
If you do not have any metal wire hangers, you can use plastic hangers to wrap your lights.
Solution
The solution here is the wrapping technique. When you wrap, go from top-bottom, and then wrap from right to left. Make sure you wrap around the hook one time to keep the tension. This will serve as an anchor to ensure the lights do not unravel.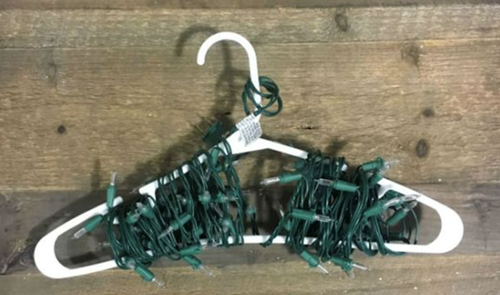 Source - How to Store Christmas Lights - 3 Ways - Bob Vila
#7 - Old Reels
If you work in the yard a lot, there is a chance that you have some old garden hose reels. These tend to be bulkier to store away but work great because you can roll all your lights, hence only needing one reel!
Solution
What you can do is take each light by the area of your home and chain them together. Rolling your lights this way makes it easier to decorate next year.
Source - Wind Christmas Lights Around A Hose Reel - Australian Handyman Magazine
Protecting Ornaments
#8 - Apple Containers
If you have plastic apple containers from the grocery store (like Costco), you can place your ornaments in these, and if you have multiple plastic apple containers, you can stack them.
Solution
You will need to have three to four containers and a storage bin: that's it!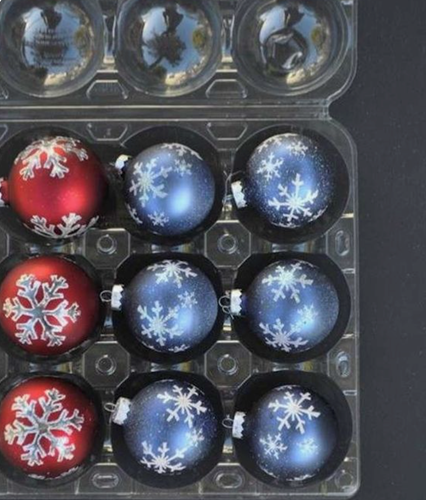 Source - (426) Pinterest
#9 - Apple Boxes
If you do not have any plastic apple containers, you can use apple boxes; they have cartons that you can store your ornaments in.
Solution
Chances are you do not have these laying around the house, but your local grocery store's produce department will have plenty of these. Most departments are friendly and will give you a few!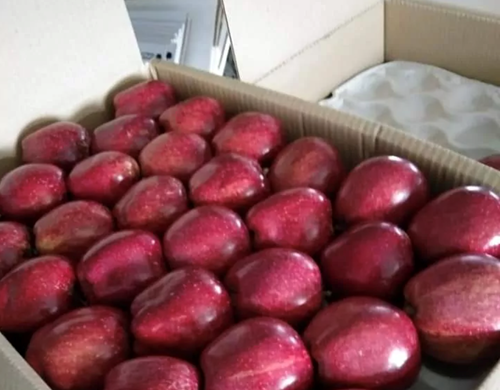 Source - Creative Christmas Ornament Storage - Make Life Lovely
#10 - Egg Cartons
What about those more miniature round ornaments? Apple box cartons will not work as the ornaments will not be firmly seated. But what about those empty egg cartons?
Solution
This solution is straightforward; just sit them inside the carton. If you want more protection, you can wrap your ornaments in packing paper before storing them away.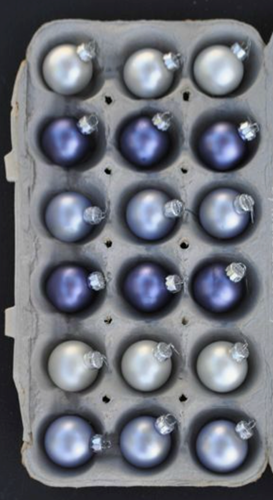 Source - Creative Christmas Ornament Storage - Make Life Lovely
#11 - Plastic Cups and Containers
Some Christmas Tree decorations are not round, so you will need more than just cartons designed to store more round ornaments. After the holidays are over, there usually are leftover plastic dining items like plastic plates, forks, spoons, and cups!
Solution
Use your plastic cups to store extremely fragile decorations. You will need cardboard, a storage bin, and a glue gun. You will need to cardboard box cut to be able to fit inside your storage bin. Lay one cardboard piece inside your storage bin and use your glue gun to mount the cups firmly in place. Stack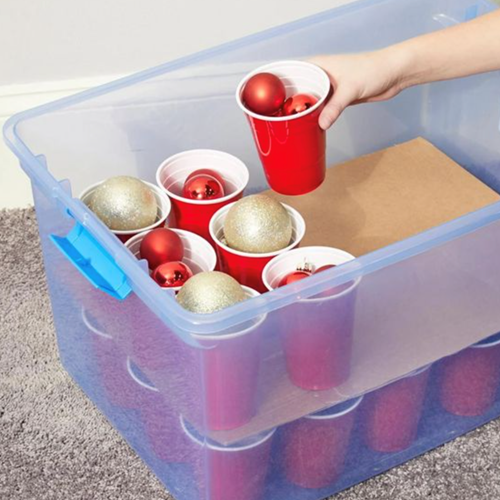 Source - Make Your Own Christmas Ornaments Storage Box (onegoodthingbyjillee.com)
#12 - Not So Fragile Ornaments
For those ornaments that are not made of fragile materials, you can bundle these together in a way where they will not rattle or move around.
Solution
If you have gallon-sized zip lock bags around, you can stuff up to 10 ornaments, and they will be firmly in place. You can easily stack them in a shallow or deep container and will not have to worry about them getting dented or losing their decor being knocked around in an empty container.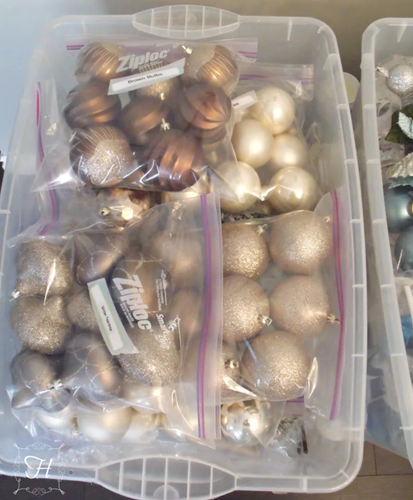 Source - Organized Christmas Ornaments (modernandbloom.com)
We hope you enjoyed these hacks, and they make storing your holiday décor less of a hassle.
< Back to Blog