7 Easy Ways to Accessorize Your Front Porch This Fall
It's finally fall in Florida.
While our change of season may not be as severe as it is in other areas, it's still a very special time of year in the Sunshine State.
From cooler temperatures and pumpkin spice lattes to welcoming front porches, it's hard not to fall in love with this season over and over again.
But as much as we love fall, we love decorating for it even more. Do you know how you'll welcome the season in your new home in Jacksonville, Florida? Here are 7 of our favorite ways to accessorize your front porch this season.
DIY Wreath for Your Front Door (or Window)

This may seem like an obvious choice, but front door wreaths are a natural way to add character and spunk to your front entry. The right wreath can help your front porch take on a new identity during any season. Whether you prefer something traditional or fun for Halloween, there are several ways to make a DIY wreath. A few of our favorite wreaths include fresh fall greenery, feathers, pumpkin and gourd embellishments, and buffalo plaid ribbons.




Update Throw Pillows


A welcoming front porch is not complete without a charming seating area to curl up and read a good book or to sit and talk with neighbors after work. When decorating your outdoor areas for fall, don't forget to either change out your throw pillows or add new patterns and textures to existing ones. Neutral chair cushions are perfectly accented by black and white buffalo plaids and pillows embellished with pumpkins or bats.




Freshen Up Your Landscaping

Add lively pops of fall color into your landscaping with chrysanthemums, coreopsis, or sunflowers. If your landscaping doesn't allow for fresh fall colors, opt for a galvanized or wooden window box. You'll be able to use your new window box season after season by simply updating the flowers and greenery planted within.




Put your old welcome mat away for the season


Our favorite looks for fall are warm, buffalo plaids, bold stripes, and fun pumpkin shapes. These looks are elevated even further when layered over a larger coir doormat. Plus, it's an extra catch-all for unwelcome dirt and contaminants.




Make it Spooky


Halloween is fast approaching and it's the perfect time to treat passersby to your very own haunted house. Our favorite homes feature faux graveyards with personalized tombstones, spooky bats, carved pumpkins, spiders in cobwebs, and giant skeletons.




You can never have too many pumpkins


Pumpkins are an easy way to add organic texture to your front porch. Arrange different shades and sizes of pumpkins along entryway steps and elevate the look by including gourds, corn and bales of hay. For a less traditional look you can paint your own pumpkins. Popular choices include pumpkins painted in fun animal prints and bold stripes or accented with house numbers.




Add a cozy throw to your furniture
In addition to updating the throw pillows on your patio furniture, add a patterned throw blanket too. Drape the blanket along the side of your chair and carefully place throw pillows on top of the blanket. A cozy throw blanket is a perfect addition for a cool fall night.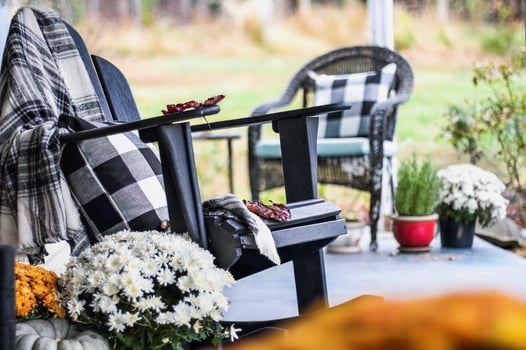 < Back to Blog