The Total Package: Flooring Materials that are Beautiful and Lasting
The time has come!
You are ready to begin designing and styling your brand-new dream home during your Personal Design Time with a Design Studio Manager. There are a multitude of flooring options available so you may find yourself asking: What materials are going to be lasting? Will it match the paint color? Will my tile selection match the kitchen cabinets and backsplash?
And, to make things more complicated, you must select a variety of flooring types for your kitchen, bedrooms and bathrooms. But don't worry, we are here to help you navigate the trends, and select the right flooring for your personal style that is both beautiful and lasting.
Make a Statement with Marble Mosaic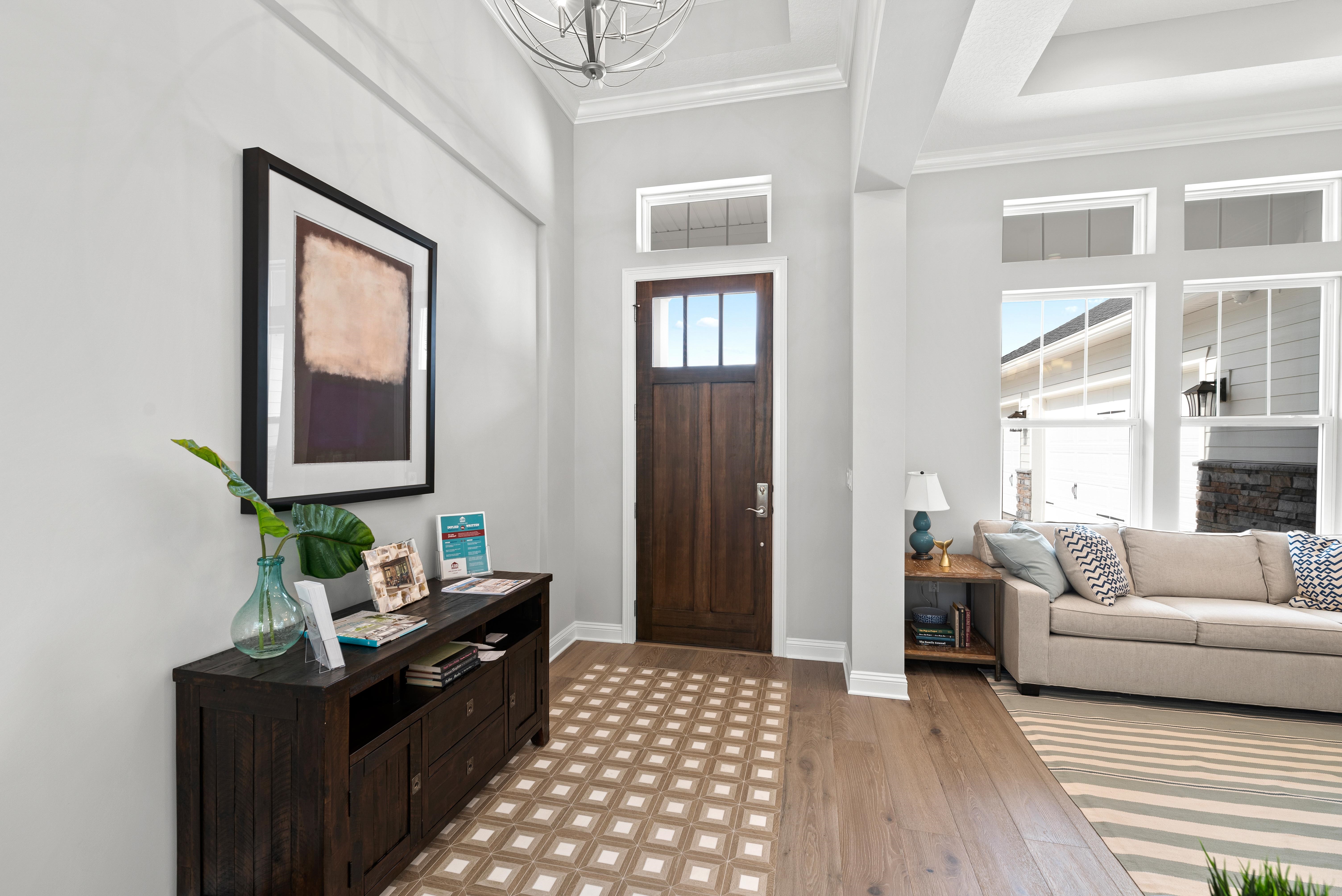 From the Willshire Model in the Twenty Mile Community.
The foyer is the first opportunity to make an impression in your home.
As a Design Studio Manager, I am always looking for ways to add variety to a space that is lasting. Paired with a wide plank Villa Bourghese oak flooring, we combined mosaic tiles to create a rug effect in the entryway of this home.
This Villa Bourghese color, Abele, is a sophisticated French Oak that has been smoked to perfection to match any décor style. It is engineered 4mm sawn veneer and sealed with 8 coats of Valspar for enhanced resistance and durability. A perfect material for any high-traffic area in your home, like the entryway or a hallway.
Trendy Two-Toned Floors

From the Thoreau Americana Model in Twenty Mile Community.
I love the blending of two colors from the same family in bonus rooms and play spaces. This flooring choice creates visual interest without overpowering the space. It offers a unique look that you won't find anywhere else.
This flooring choice is from the Mohawk Antiquity line. The darker color is Medieval Oak and the lighter color is Arctic White Oak.
Oak is an excellent choice for floors as it is usually denser and harder than the birch species and will typically resist more scratches. It has a timeless graining that's not too distracting but provides a nice organic warmth to any space.
An Open-Concept to Let in Natural Light
The flooring in your home is more than just a surface to walk across. It can also be aesthetically pleasing and add style to any room, especially in an open-concept layout.
From the Beaufort Model in the Wildlight Community.
This flooring stretches throughout the entire kitchen and dining area and provides a cohesive and natural look. It clearly reflects the sunlight from the windows, creating a bright and airy feeling.
This open-concept space features laminate from the Mohawk Kingmire line in the color Nutmeg Chestnut.
An Elegant Flooring Choice
Marble is always an elegant choice. According to the World of Stone, "marble is a metamorphic rock formed by alteration of limestone, often irregularly colored by impurities and used especially in architecture."
Marble floor tile is frequently found in residential bathrooms because it is refined, waterproof and long-lasting.
From the Lagniappe home in the Glen Kernan Community.
This White Carrara marble tile boasts timeless beauty. I love the various shapes and sizes of the same product because they add unique and visual interest to the space.
Patterns, Patterns, Patterns
From the Willshire Model in the Twenty Mile Community.
Patterns have become extremely popular in recent interior design. Patterned tiles jazz up a small space, such as a laundry room.
Paired with stark white appliances and cabinets and a bold, single-toned backsplash, a patterned floor can give you just enough detail and excitement to create a cohesive and fun look.
< Back to Blog