The Junction Model Home featured on Progress Lighting
Heather Lepley, Design Studio Manager at Dostie Homes, had the pleasure of speaking with Progress Lighting about her work on the coastal farmhouse style model home in The Junction at Twenty Mile! Read about the project and see which fun Progress Lighting fixtures helped bring the style to life.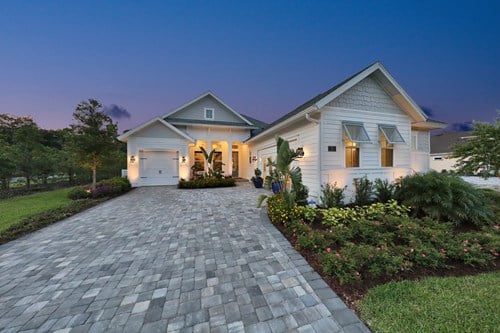 Welcome to Cooper Seaside - A model home in Northeast Florida that features Progress Lighting to create a Coastal Farmhouse style.
A trusted homebuilder in northeast Florida for six decades, Dostie Homes takes pride in creating communities that reflect the quality their buyers have come to expect. Nestled in a location that lends itself towards coastal living, we were curious what is trending within home styles and architectural preferences in and around the Jacksonville area.
Recently we spoke with Heather Lepley, interior design consultant for Dostie Homes, who walked us through a brand new model home in the Nocatee community – the Cooper Seaside – while also addressing elements found in the Coastal Farmhouse style.
According to Heather, the model home's design style is a true blend of Farmhouse and Coastal elements, which speak to the integrated styles many homeowners desire. Some key features include:
Neutral color palette
Natural materials and nautical accents, such as the hard plank wood and artwork
Accessories that cater to outdoor living, including a fire pit and a pergola
Farmhouse style lighting – to create contrast in lighting, Heather mixed light and dark elements, as well as fixtures featuring a rustic influence
See more photos of featured Progress Lighting Fixtures.
< Back to Blog