The Dostie Difference: ZIP System™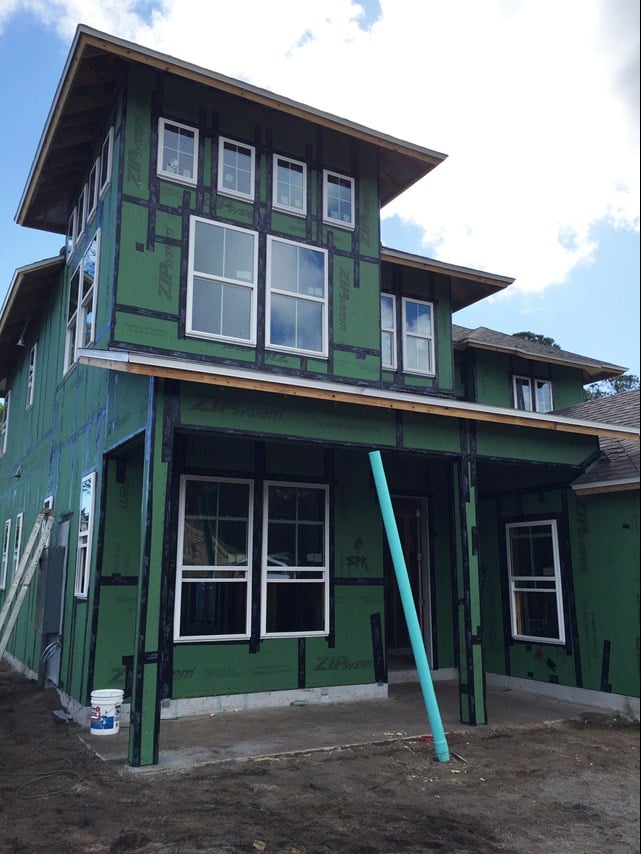 Dostie Homes prides itself on building a quality home that will last for generations to come. With that quality also comes energy efficiency. Have you ever seen a home in the construction phase with green walls as shown in the picture above? Ever wondered what exactly it is? The ZIP System™ is an innovative structural wall system that incorporates both water resistance and air barriers to protect your home and eliminates the need for old fashioned housewrap.
Energy Efficient Air Barrier
If your home's walls are not sealed, it can cost you hundreds – if not thousands – of dollars on your energy bill. ZIP System™ reduces air leakage into and out of your walls, protecting the R-Value of your insulation.
Benefits of reduced air leakage are lower utility bills, better indoor air quality, and a reduced risk of wood rot and mold, which can lead to expensive structural repairs or even health problems.
Built-In Water Resistant Barrier
During construction, your home is exposed to environmental elements. With ZIP System™ sheathing and tape, the water resistant barrier built into the panel helps to protect your walls from water. These panels have a 180-day exposure guarantee, eliminating the need for housewrap (which can tear easily from incorrect installation).
Enhanced Structural Durability
ZIP System™ is an innovative engineered wood panel, created to give your home superior, long-lasting strength. With a unique combination of high wood density and moisture fighting resins, ZIP System™ sheathing withstands the elements during construction and provides a sturdy, dependable base for your home.
To learn more about ZIP System™, visit www.huberwood.com/zipsystem/homeowner-benefits. Facts and features from Huber Engineered Woods.
A few times per month, we will be featuring elements that make Dostie Homes a quality builder. You can rest assured that your decision to build your home with us is the right choice. Stay tuned for more blog posts on The Dostie Difference!
< Back to Blog