The Allure of the Master Bath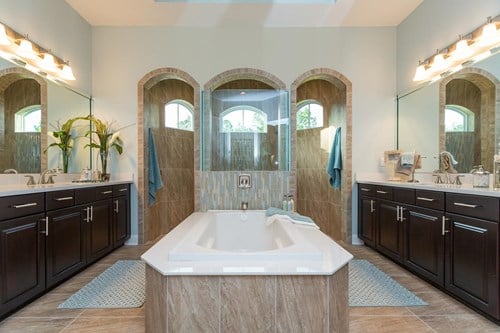 We wanted the next design feature for our blog to be about the Master Bathroom because, for so many of our home buyers, it's such an important part of the home. The master bathroom needs to be both conveniently functional as well as a retreat for relaxation.
Heather Lepley, our Interior Design Consultant explains, "When selecting finishes for a home, the master bath is one of my favorite areas. It serves as a retreat for the home owners and, as such, should provide them with a luxurious space to prepare for and relax at the end of the day. This area is about function and feel. When people are working within a strict budget, I typically advise focusing the upgrades on the kitchen and master bath."
Most master baths are shared by more than one person. This means the space should maximize functionality, allowing for multiple activities to happen at the same time. Considerations for the area should include whether a client prefers to maximize countertop space with a single, long vanity or to have a little more privacy and the separation that comes along with having His and Hers vanities.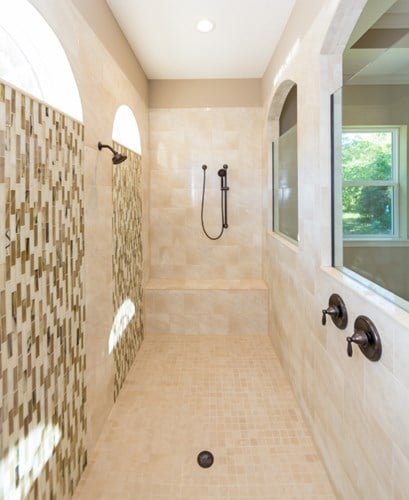 Master bath spaces are beginning to embrace the "open floor plan" that has become so appealing in the main body of the home, and most every room has a focal point. The same is true for the master bath. In the Riverside plan – one of Dostie Homes' most popular plans – the focal point is definitely the shower (jokingly referred to as the "Car Wash" shower as home owners can walk in on one side and out the other). While the Riverside master bath features a centrally located garden tub, the tub serves as more of an anchor for the space instead of acting as the focal point.
An open shower plan allows for a variety of plumbing fixtures within the same space, including rain shower heads, body sprays, hand-held shower heads and so on. Hand-held fixtures and slide bars offer additional versatility, especially when the people sharing the master bath space are of drastically different heights.
Achieving the "Wow Factor" in a master bath can be done in a few ways. Hanging a chandelier over the tub adds elegance and intimacy, while allowing a different type of light that may be better suited to a relaxing soak at the end of a long day. Another way to add interest is through the tile designs. "Playing with different tile sizes, shapes and patterns is one of my absolute favorite things to do," says Heather. "Even if a client decides against using a decorative mosaic or listello, visual interest can be achieved in how the tile is arranged. This is a great way to add a little pop to the space without blowing your budget. While an entire wall done in a recycled glass mosaic certainly looks fantastic (and expensive!), that's not the only option for adding luxury to the master bath."
A characteristic design Heather likes to use involves using both the floor and ceiling in a space to define an area of a room. If the master bath features a step, or tray, ceiling, Heather likes to mimic the effect on the floor, creating a rug effect using a mosaic border and tile of varying colors and patterns inside and outside the border. This style is show below in a home built in The Forest at Las Calinas.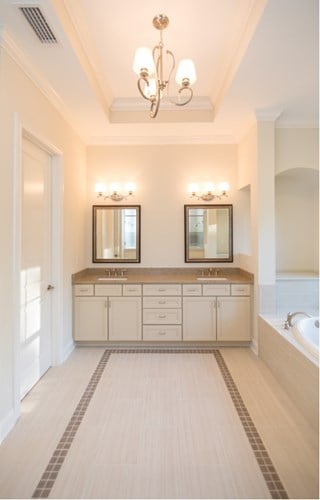 Cool, soothing, and natural colors work best in bathrooms – Heather suggests cool grays, taupes, blues, and greens. Soft, airy colors will make the space feel bigger while dark, deep colors will add richness and make the space feel more intimate. Natural colors are timeless and can provide a "safe" palette that can be quickly updated by switching out things like towels, knickknacks and rugs.
"The most important thing about your master bath," Heather says, "is that the space provides you with functionality. But coming in at a close second would be how the master bath makes you FEEL."
For more interior design tips and tricks, stay tuned to our blog! We will share great tips from our on-staff Interior Design Consultant, Heather, a few times each month.
< Back to Blog