Open Shelving in the Kitchen - Yay or Nay?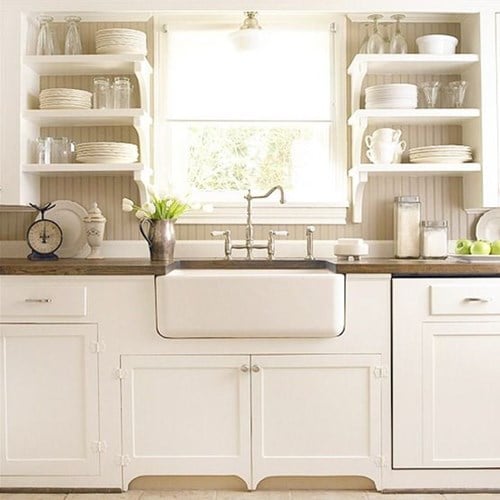 One thing we are seeing a lot in the kitchen these days is the use of open shelving in lieu of upper cabinets in the kitchen. But what purpose, other than having your dishes out for everyone to see, does this serve – other than to be on trend? We asked our Interior Design Consultant, Heather, her opinion and she shared some points you may want to consider if you are looking into remodeling (or designing a kitchen for your new Dostie Home)!
Open shelving in the kitchen can make a small space feel more open. Pair that open shelving with light, bright dishes and you have just added what appears to be some extra square footage in your "cozy" kitchen! This concept has been seen throughout many of the HGTV remodeling shows and in design magazines, galore! Heather also pointed out to us that this concept is really all about function. "A quick glance around the open shelving in your kitchen and you will know where everything is, ready to be used."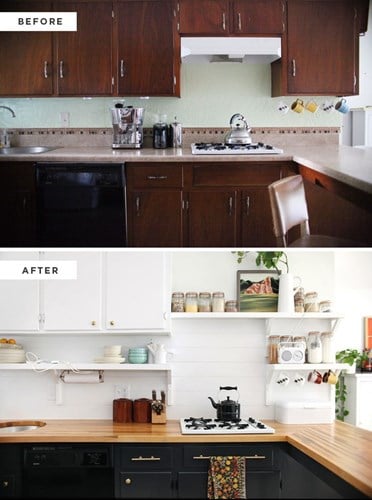 To get this look, simply ditch all your upper cabinets for 2-3 rows of simple shelving. Are you cringing at the fact that your dishes will be on display? Or maybe the loss of cabinets scares you? (Besides, everyone loves to hide kitchen knick-knacks behind cabinet doors!) Consider using open shelves in just one area or above the sink. Another option Heather has suggested is to use glass doors in place of your standard cabinet door front. This is a great way to achieve the visual interest of your collections, but safe from having to constantly dust the shelves.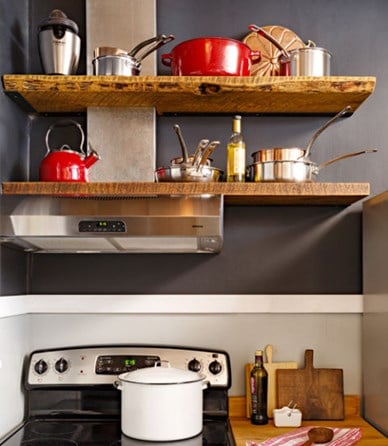 Having shelves installed above the stove makes for some great storage space where cabinet space is typically lacking due to the hood duct work. This still gives you the desired look, but you have better control of what's out on display while saving your cabinet storage space. Simple white dishes, clear glasses and colorful cookbooks are some staples that look great on display! This concept also makes it easy to change up the look; just rearrange your bowls, plates and coffee cups every so often! Be careful, though. It can be tempting to cram the shelves with too much stuff. Overstuffing shelves will defeat the purpose of the open concept look you're going for. Pare back to only the most often used plates, bowls and glasses. Store the less used and non-visually-appealing dishes in the cabinet space below.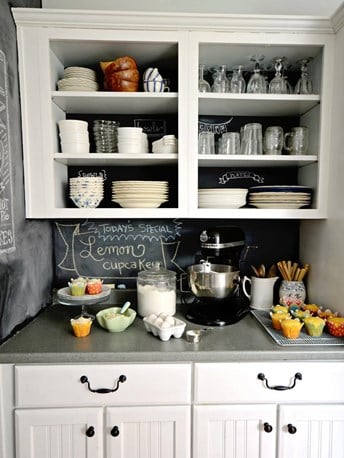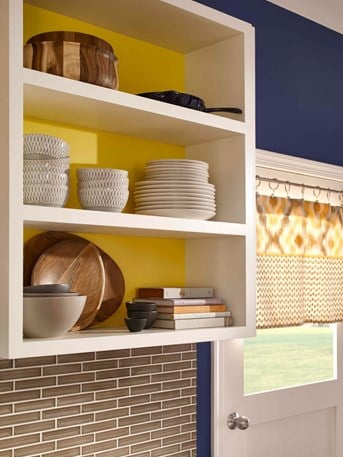 Another way to achieve this desired look on a budget is to simply remove the doors from your upper cabinets. Paint your existing cabinets white and the inside a bright color - BOOM! Instant fresh look and open concept shelving!
Still need to see some pictures to get your design ideas flowing? Enjoy these pictures we found on pinterest!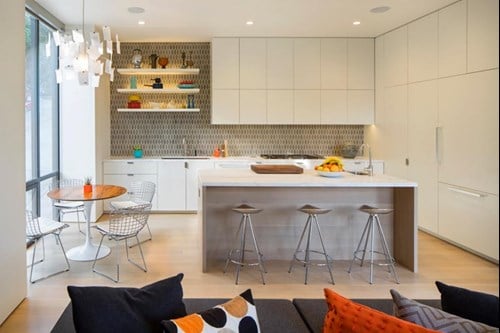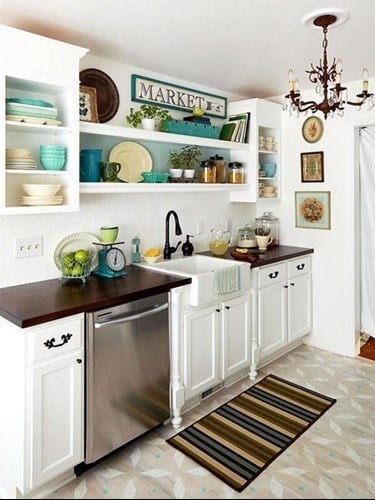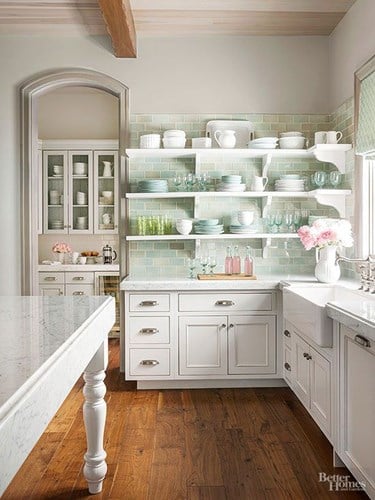 Stay tuned to the Dostie Homes blog for more design tips from our on-staff Interior Design Consultant, Heather!
< Back to Blog