Myths Debunked: No, Buying a New Construction Home Doesn't Have to Take Long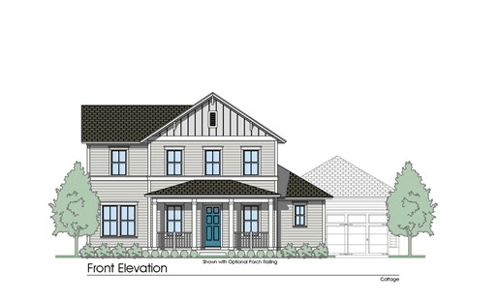 When deciding whether to build a new home or buy an existing home, many people automatically assume new construction will take a long time.
New construction processes like framing, laying the foundation and installing insulation may seem daunting and time-consuming but an experienced home builder can walk you through each step of the process with ease.
From designing the perfect layout to selecting your favorite paint colors, tile and counter tops, building your dream home is within reach even for buyers with a tight timeline.
Building a New Home isn't Significantly Longer
Before committing to building a new home, it is important to understand the construction timeline for your home.
The average completion time for a new, single-family home is around 8 months, from permitting to commencement of construction and completion.
When you build with Dostie Homes, the average length from the time the foundation is poured to your New Home Orientation is 5-6 months.
Sure, if you fall in love with the first home you view, put an offer in and it gets accepted, you may be able to buy a home in 45 days. But, with the average buyer looking at 10 or more homes during their search, finding a home you love and closing in 45 days isn't very likely.
Compare a new construction timeline to how long it takes shopping for existing homes on the general real estate market—4.5 months—and the difference of a few weeks doesn't seem like much.
Don't Forget About Move-in Ready New Construction Homes, aka Inventory Homes
One of the best ways to get a new home without the wait is to purchase an inventory home. An inventory home is either in the process of being built, reducing construction time significantly or construction is complete.
The average length of building a new home is between 5-6 months. For many buyers, receiving the benefits of a brand new home without the wait can be ideal.
Because inventory homes are almost or fully complete, you are able to view your future home with all of the colors, finishes and interior design selections during the buying process instead of a blueprint. This will make it easier for you to envision your furniture and personal touches in the space.
Take the Guesswork Away with a Well-Established Timeline
After a contract is signed on a new construction home, the buyer is given a timeline from the builder that will lay out dates when your home will meet certain milestones such as laying the foundation, constructing the frame and adding your personal touches with the interior finishes selected during your personal design time.
During the building process, you will know exactly where your home is at each stage, taking the guesswork out of the process.
When you search for a previously constructed home, the uncertainty of when you will find your dream home is a chore. And, even if you find your dream home, it is dependent on your offer being selected and a tedious closing process that is dependent on multiple factors.
During the new construction process, you will receive a well-established timeline and can plan ahead and know exactly when you will be able to start living the dream in your newly constructed home.
A Home Tailored to Your Specific Needs
Dostie Homes has over 60 years of experience building homes and we've heard it all. Many buyers request to make rooms bigger or to add or remove a wall and the answer is often yes. Moving walls and making rooms bigger in a previously constructed home is possible but it will come with a hefty remodel price tag.
Instead of enduring an endless search to find the perfect home to meet all of your needs, building a new home may be the solution.
< Back to Blog