How to Prepare Your Home for a Hurricane in Florida
Many people move to Florida for the warm weather, white sandy beaches and picturesque weather. It's easy to get distracted by the Florida lifestyle and forget all about the looming hurricane season.
If you're new to Florida, there is no need to feel anxious about this time of year, because with the right preparations, storm season can be a breeze.
Experts predicted an active Atlantic hurricane season and now that the first storm is behind us, it's time to let it go and get a jumpstart on preparing for the next one.
Gather Emergency Supplies
While your emergency hurricane supply kit will vary from your neighbors, there are a few standard items that should be included in everyone's emergency supplies.
The basics include items like flashlights, batteries, water (roughly one gallon of water per person to last several days), battery operated radio, a fully packed first aid kit, non-perishable food items and a can opener, and personal sanitation items - toilet paper, hand and body wipes, and toothpaste.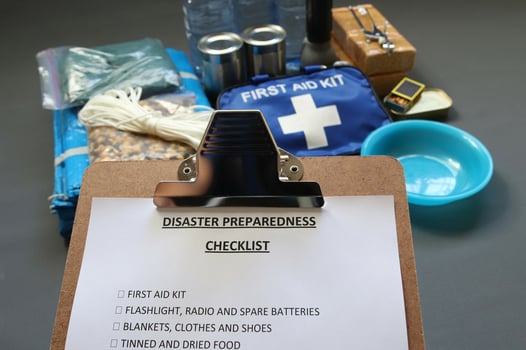 In addition to the basics, your first aid kit might also include prescription medications, pet food, formula for infants, activities for young children, as well as paper products like plates and cups.
If you have prescription medications, you'll want to refill your medications before the storm to ensure you have at least a one-month supply.
For more information on how to build your own personal hurricane supply kit, watch this video from FEMA.
Review Your Home Insurance Policy
Before the storm season begins, you'll want to ensure that your home insurance policy is up-to-date and that you have the proper coverage needed to weather any post-storm damages.
Protect Windows and Doors
The best way to protect your windows from hurricane-force winds is by using storm shutters built to withstand hurricane-force winds. You'll also want to ensure that shutters from previous seasons are still in good working order.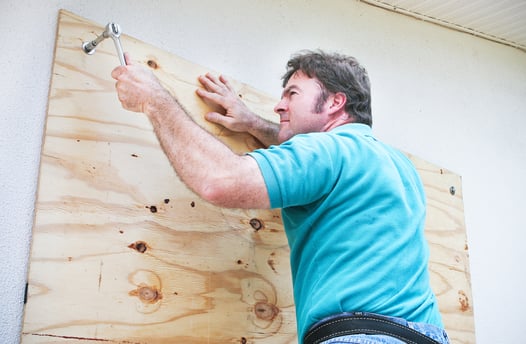 If you haven't yet installed hurricane shutters on your home, you can visit your local lumber yard to purchase plywood to size and then fasten over windows, doors, and sliding glass doors.
Sandbags can also be placed at all entrances to the home as added insurance against rising water levels.
Secure Your Homesite
You'll need to secure the loose items around your property so that they are not knocked around during the storm. Patio furniture, grills, planters, garbage cans, and recycling bins should be moved inside to a garage or other enclosed areas.
It's also recommended to trim tree branches and bushes before the start of hurricane season so that the trimmings can be disposed of before a storm. Don't forget to remove any low-hanging branches close to rooflines that could potentially wreak havoc on your home during the storm.
< Back to Blog