Great Lighting: The Unsung Hero of a Beautiful Room
Light fixtures are a central aspect of your home design.
Spaces can either be dressed up or down with your lighting choices. You can take a relatively simple space and make it elegant with a fancy light fixture. Or, you can take a formal space and add some coziness with a more casual light.
Lighting is often considered the jewelry of a home. And just like jewelry, prices can vary. You can buy your jewelry at Claire's in the mall, or you can go to Tiffany's, and a million places in between. When building your dream home, we recommend that buyers shop around and consider multiple styles and manufacturers at many different price points before selecting lighting for your home.
Discover some of our favorite lighting we have used in our new-construction homes.
Make a Good First Impression with Porch Lights
When guests and visitors arrive at your home, the first opportunity to make a good lighting impression is with front porch lighting.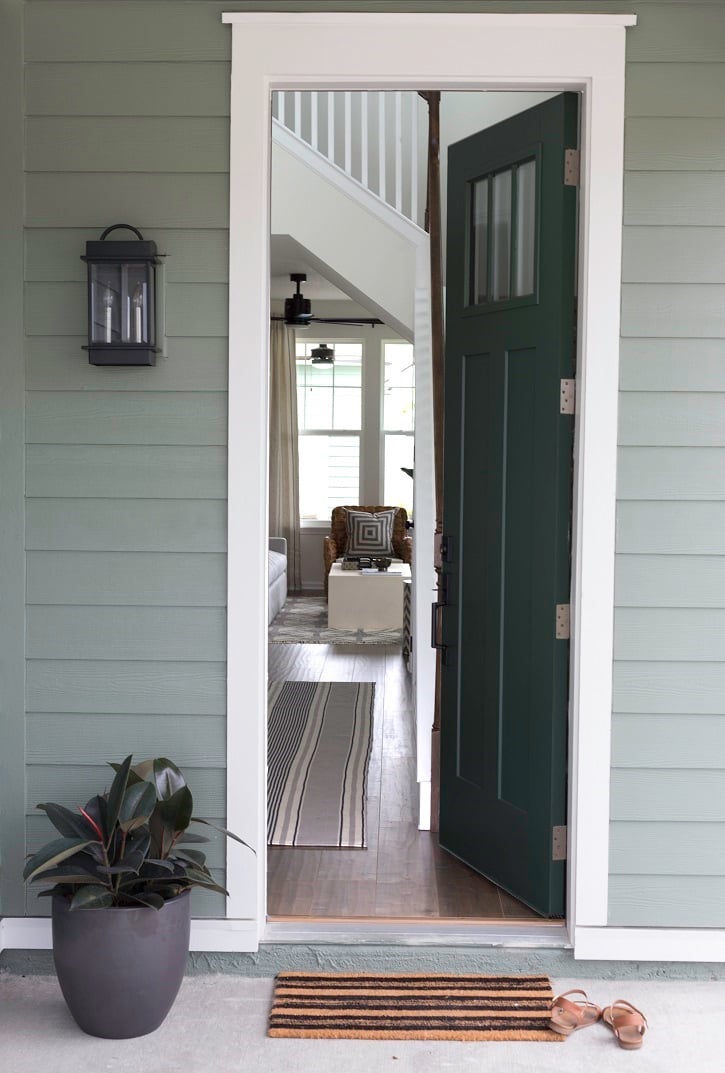 Our Charleston home in the Widlight community offers carriage lights by Progress Lighting. This geometric frame creates visual interest and provides a classic colonial look with contemporary touches.
Front porch lighting helps set the stage for what's inside your house. They can be fun or simple, but this is a great place to start establishing the personality of the home.
Layering Lights
Layering lighting means utilizing multiple forms of light in a single space and thoughtfully arranging them to achieve a well-lit and aesthetically pleasing atmosphere. Comfort, functionality, and beauty can be achieved with this technique.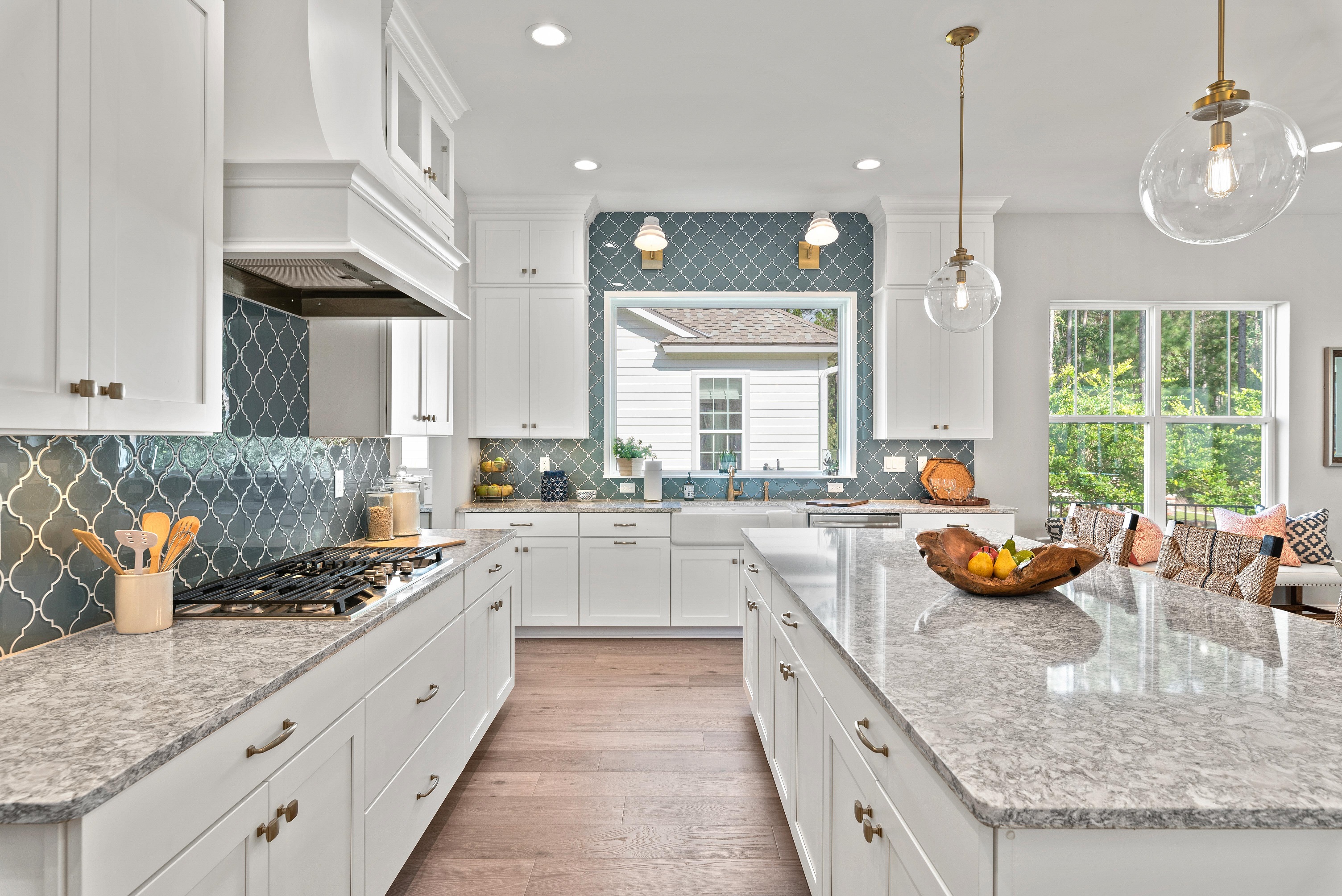 This kitchen from our Wilshire home in the Twenty Mile community offers an excellent example of layering lighting.
The first and most important layer is ambient lighting. In this kitchen, the recessed can lighting is used to illuminate the space to help you perform day to day tasks in the kitchen. Without ambient lighting, you would be left to make dinner in the dark.
The next layer of lighting represented in this kitchen is the task lighting underneath the kitchen cabinets. This kind of lighting is very specialized but can help illuminate the counters when cutting vegetables or preparing a recipe.
The final layer is accent lighting in the form of pendants over the island and the wall sconces above the sink. These lighting options provide some light but shouldn't be relied upon for "functional" lighting. The main purpose of these pieces is to accent the space and décor.
Make a Statement with a Sputnik Chandelier
A Sputnik chandelier is a popular light fixture from the mid-century modern era. This generation of home decor was inspired by the Soviet Union's launch of Sputnik, the world's first orbiting satellite. Each Sputnik chandelier has a core surrounded by arms that contain light bulbs.
A Sputnik chandelier is a light fixture that can take on different looks depending on the light bulbs used, allowing you to change the look and feel of your space without changing the entire fixture.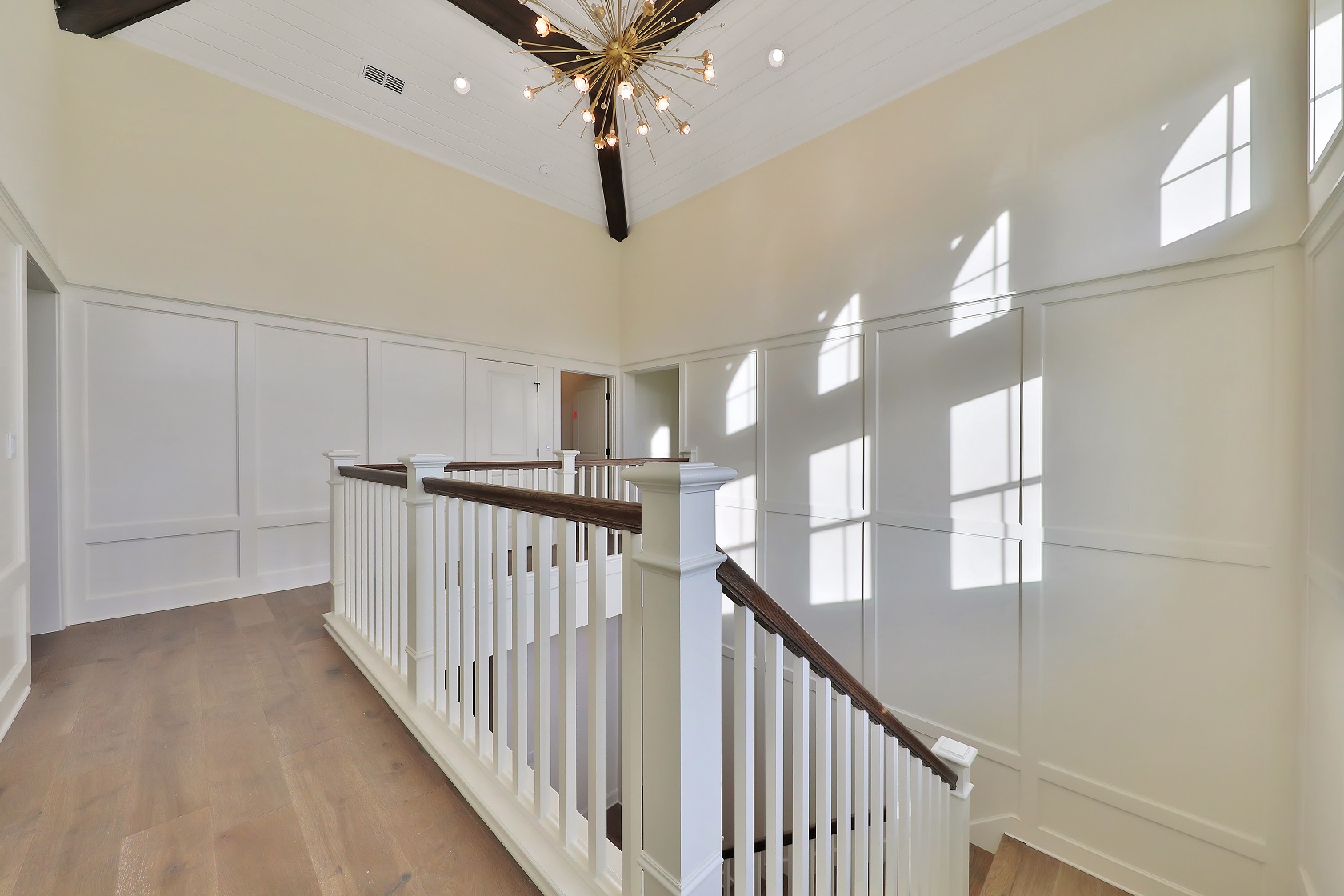 Our Lagniappe home in the Glen Kernan neighborhood boasts a beautiful Sputnik chandelier in the multi-story foyer of the home, creating a bold statement.
Luxurious Bathroom Chandelier
When it comes to designing a beautiful master bathroom retreat, there are many ways to infuse your own personal style. This may include adding aromatherapy candles or hanging a soothing piece of art above the bathtub. A more permanent way to create a master retreat is to include decorative lighting.
Decorative lighting can bring out your personal style and help you make a statement. A designer chandelier will add a touch of sparkle and sophistication complementing the other fixtures in your space.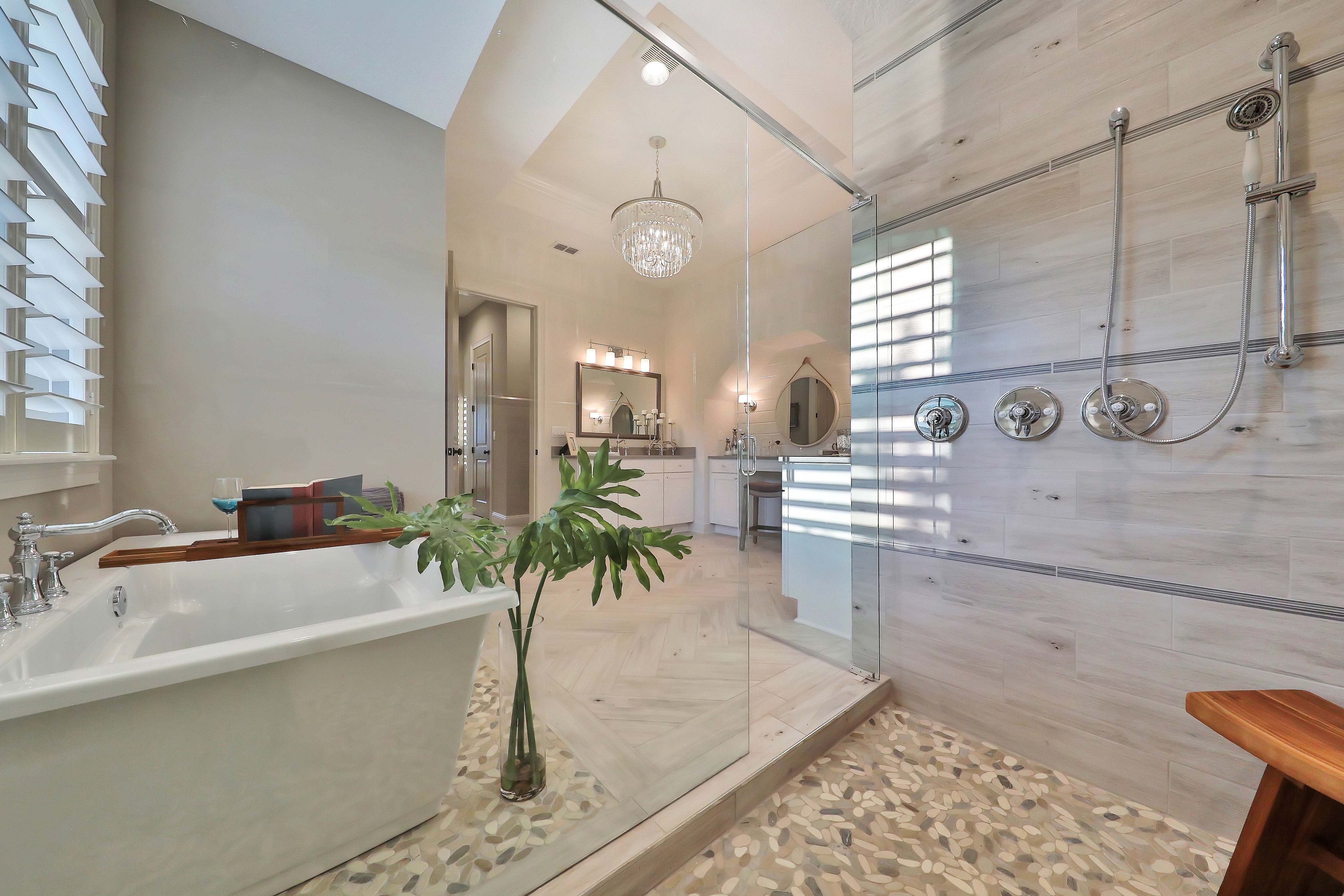 The chandelier featured in our Cooper home in the Twenty Mile community is from Progressive Lighting's Glimmer Collection. Because the rest of this bathroom is calming and neutral, a glimmering chandelier added some much-needed bling and elegance.
Oversized Pendant Lighting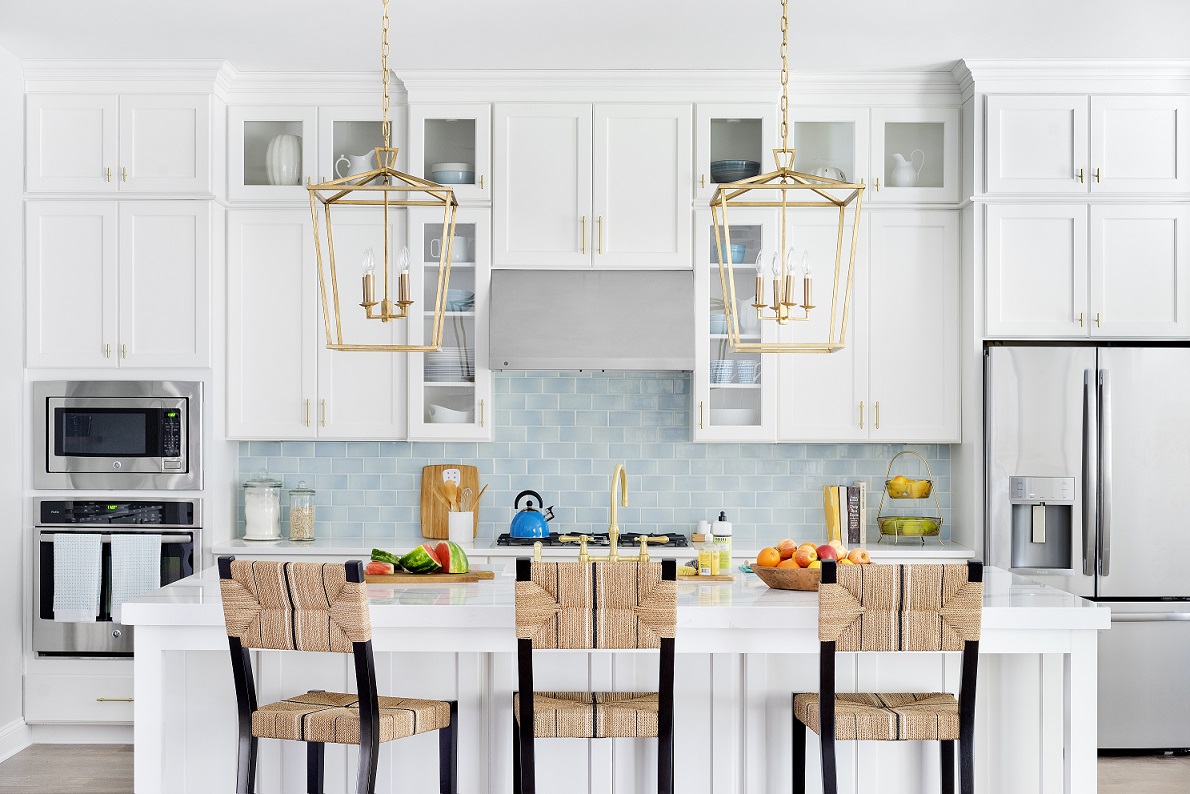 The pendant lights featured in our Thoreau Model in The Ranch at Twenty Mile community are a popular choice among homebuyers. These pendants, from Circa Lighting, are known as Darlana and come in a number of different finishes from old white to gilded iron.
The thing we love about this particular pendant is that, while the light fixture itself is large, the visual weight is NOT since the fixture is see-through. Oversized pendants can be beautiful, but if you select one that has too much visual weight, it will feel too big and heavy, and will kill the flavor of the space.
Don't Forget the Ceiling Fan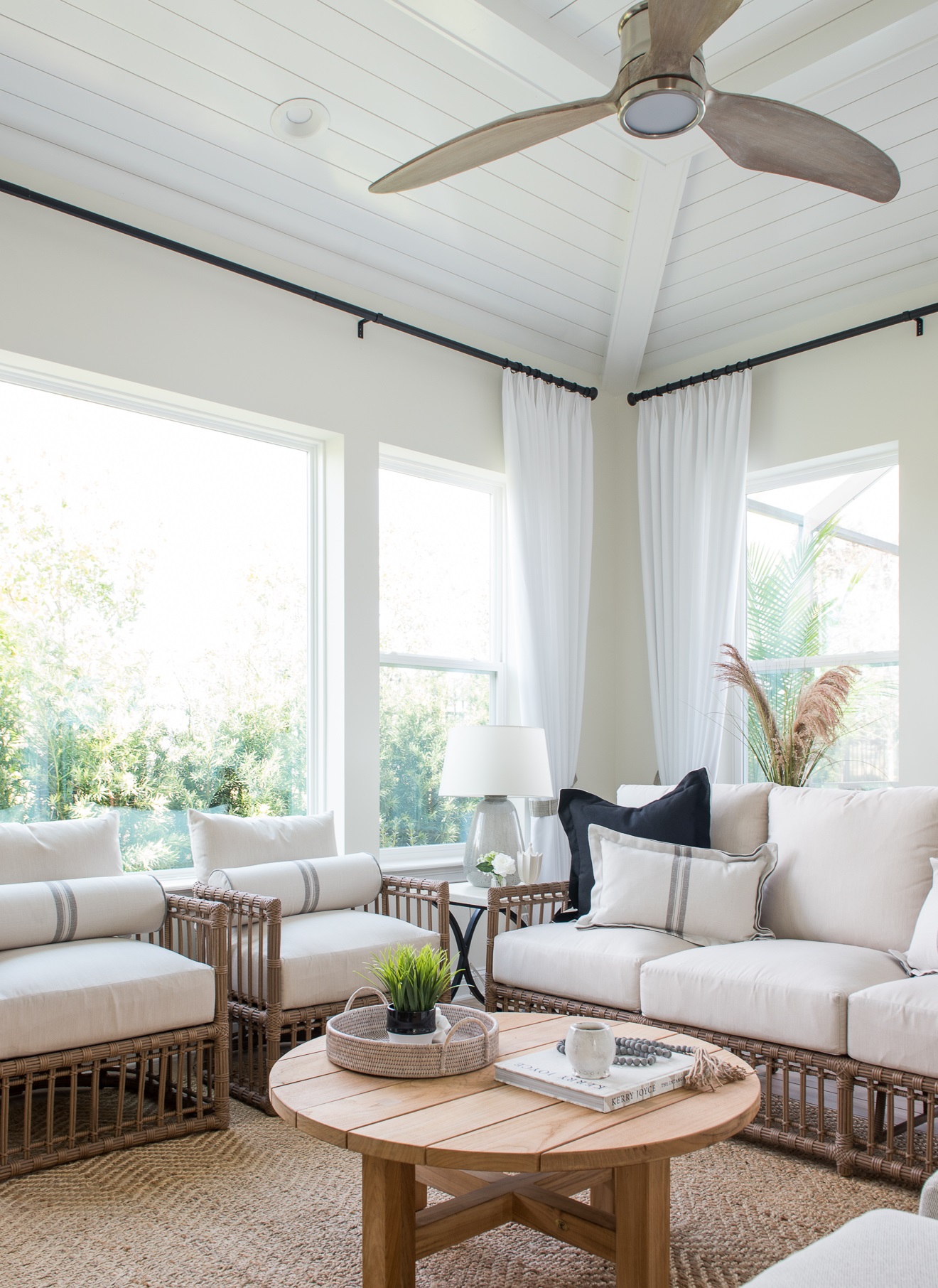 From the cabana of our Acadia model home in Heritage Trace
Often forgotten when considering aesthetically pleasing and decorative light fixtures, fans with light kits are an excellent opportunity to provide lighting as well as functionality. A ceiling fan can jazz up a space and provides both air circulation and light.
This Three-Blade Carved Wood Ceiling Fan from the Farris Collection offers a brushed nickel finish and a sleek and modern design. The removable LED light kit provides the option for non-illuminated applications.
< Back to Blog