Living in Wildlight: Adventure Awaits
Picture this: You're standing in a driveway of the Wildlight community. You are 30 minutes away from paddleboarding on the river, surfing at the beach. Without even starting the engine of your car, you can take your dog on a walk through miles of trails surrounded by conservation land or even walk your child to school and back.
Wildlight was built on the foundation of health, wellness and community offering residents a unique experience to be inspired by nature and each other. And it delivers on that promise.
From year-round planned activities to outdoor adventures in your backyard, Wildlight has something for everyone.
Community Events
Wildlight is committed to creating a sense of connectivity amongst neighbors in the community—literally. The community has a dedicated Lifestyle Director who is responsible for planning a wide variety of community events and leading neighborhood clubs.
Gather with neighbors and friends for poolside movies, Ladies Night Out, outdoor Yoga & Mimosas, Kids Arts & Craft Day, beer tasting at the pool, themed bingo and food truck nights.
Porch Portraits are a Wildlight favorite. Put on your best outfit, grab the family and get ready to smile big for the camera. The best part about it is you don't have to leave your home—the photographer comes to you.
Outdoor Adventures in Wildlight, Florida
Wildlight offers a unique opportunity: Hiking and biking in your own backyard with miles of paths through the neighborhood's conservation land.
These trails are beautiful, but they're more than that: They also offer a viable alternative way to get to the places you need to go.
Wildlight developers collaborated with UF Health and White Oak Conversation to strategically plan a network of trails that connect neighborhoods with shopping, amenities and local businesses within the Wildlight community.
Whether you simply plan to walk your dog or train for a marathon, Wildlight's outdoor recreation opportunities offer a healthy and ecological haven for all residents and visitors.
Dedicated to Conservation
Approximately half of Wildlight's land is reserved for preservation and conservation with many miles of hiking and biking trails. Wildlight brings nature, active lifestyles and outdoor recreation close to home by focusing on developing a new standard for healthy living through conversation.
Come See it Yourself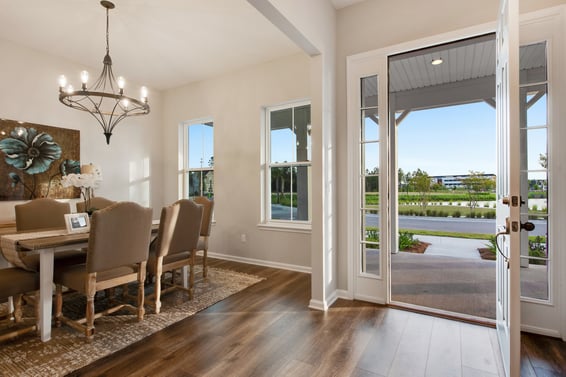 Not sold on Wildlight yet? Come see its beauty for yourself. Get closer to nature and take a walk on the trails, grab some ice cream at Cold Stone Creamery and check out the available homes in the neighborhood.
Dostie Homes offers in-person model home visits as well as a guided virtual tour experience that allows you to view our model home and have the same interactive visit you would have if you came in person.
< Back to Blog