Countertops We Love: From Striking Statement to Classic Elegance
Is there anything more striking than a bold countertop in a brand-new kitchen? Building a new construction home is the perfect way to get your dream kitchen with your dream countertops.
Modern innovations in countertop stone and design have provided homeowners with more durable and versatile options for their kitchens and bathrooms.
From classic granite to modern quartz, explore the benefits and design elements of each of these stones, commonly used for countertops in residential homes.
Classic Elegance: Granite Countertops
Nothing says classic elegance more than a granite countertop. Granite, known as a luxury material, will make a statement about your personal style and showcase elegance in your home.
According to HGTV, granite stone is highly praised for being stain- and scratch-resistance as well as being tough, durable, and nearly maintenance-free.
One drawback to granite is that it typically needs to be sealed to prevent bacteria from growing in the natural divots and imperfections in the stone. It is recommended to seal your granite at least once a year but this is dependent on how you use and clean the surface. Sealing your granite countertops is very easy: You simply spray the sealer onto the surface and wipe it off.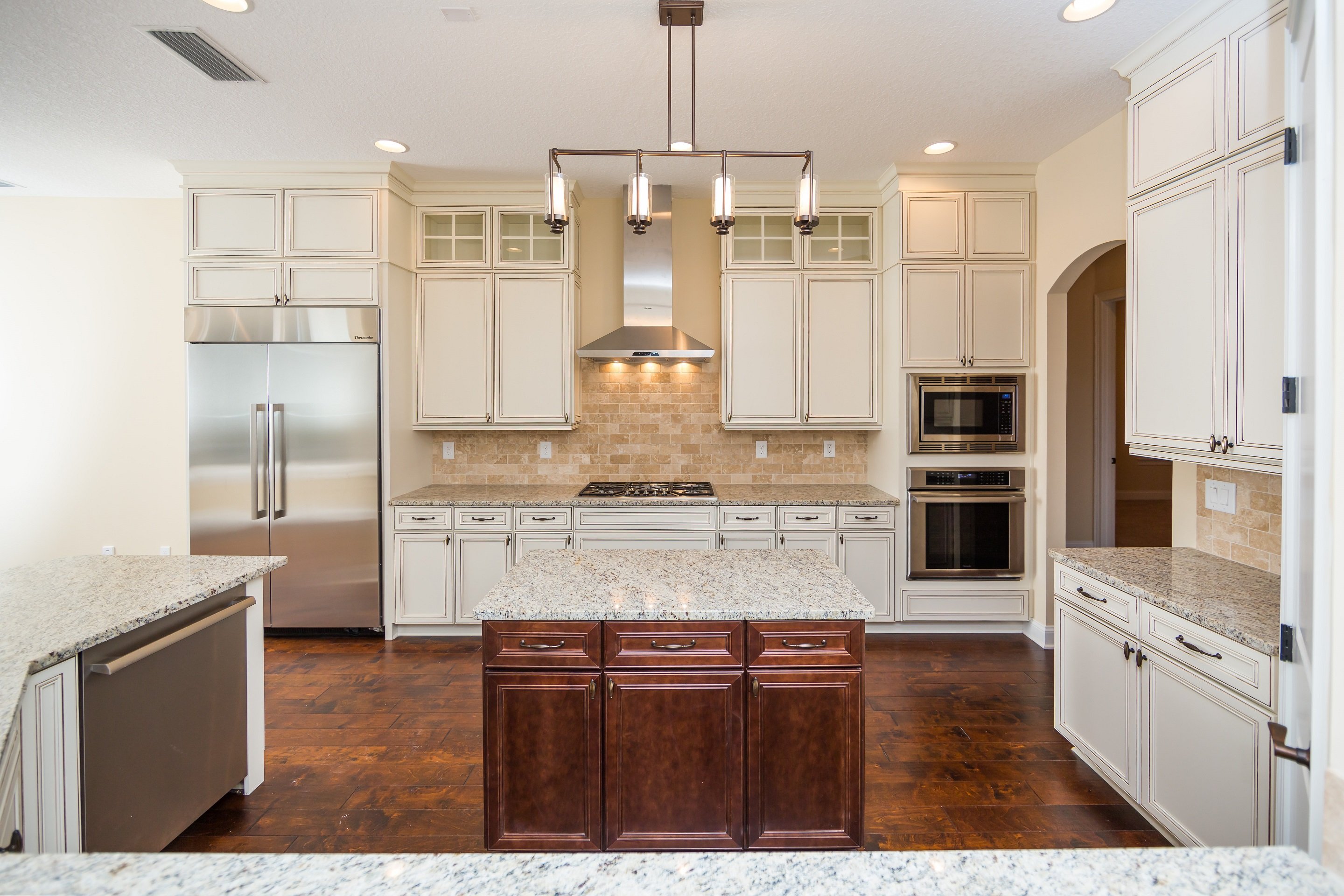 From the Fitzgerald home in the Las Calinas Community.
This kitchen is a perfect example of classic elegance. We love the combination of dark floors, a natural stone backsplash and cream cabinets.
Granite countertops come in many colors, making it a suitable choice for any kitchen or bathroom.
Modern Vibes: Quartz Countertops
A more modern selection homeowners are choosing for their kitchens is quartz stone due to its durability and ease of maintenance and care.
Unlike granite, quartz doesn't need to be sealed. Because it's a completely solid surface, it's considered antimicrobial since there aren't any surface imperfections where bacteria can grow. The assurance that the surface won't harbor germs after bringing home groceries or having your dinner delivered is comforting.
From the Thoreau Americana Model in Twenty Mile Community.
We love the minimalist modern vibe from these Cambria Brittanicca countertops. The grey veining of the countertops and ombre effect on the backsplash tiles contrast with the clean lines of the cabinetry giving this kitchen strong mid-century modern vibes.
From the Willshire Model in the Twenty Mile Community.
From Cambria's Berwyn collection, these countertops offer superior performance and endless versatility. Swirls of heather gray, taupe, white, and cream provide contrast to the bright white cabinets and single-toned backsplash.
Striking Statement Piece: Dual Tone Countertops
From the Claremont home in the Glen Kernan Community.
We love a good statement piece, especially in the kitchen. It draws attention and creates a unique element that you won't find anywhere else.
This black Cambria countertop offers American craftsmanship and industry-leading innovation. Not just for show, this unique material is nonabsorbent, durable and maintenance-free.
The perimeter of this modern kitchen hosts a White Cliff natural quartz surface, also made by Cambria. With the stainless steel appliances, a dark backsplash and white cabinets, this combination creates a statement by combining multiple tones, textures and colors.
Don't Forget the Countertops in Your Bathroom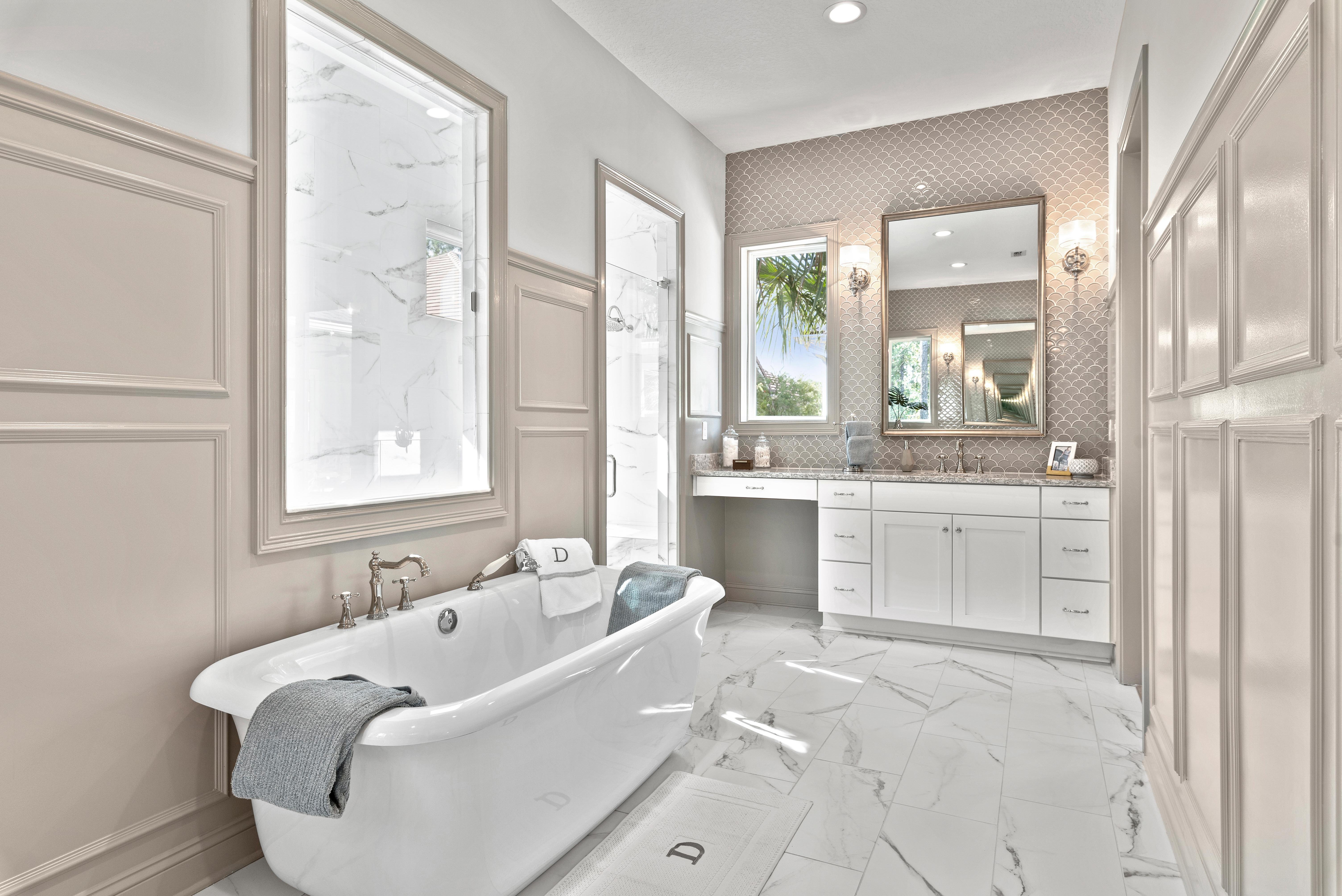 From the Willshire Model in the Ranch at Twenty Mile Community.
When building your dream home, we sometimes forget that the bathroom has countertops too. Even though the bathroom isn't seen as often, gorgeous materials that offer versatility and durability are required in this space as well.
This elegant bathroom boasts Cambria Crowndale quartz countertops. Crowndale combines warm cream and beige splashes with darker tans to articulate an intriguing design statement.
Paired with a neutral beige backsplash and white cabinets, these quartz countertops create an elegant and luxurious bathroom that promotes relaxation.
< Back to Blog