Bringing a Master Bathroom Together with Beautiful Finishes
Are you looking to create a cozy master bathroom retreat?
Not only does your space need to be efficient and likely accommodate more than one person, but it should also express your style. By adding designer finishes to your bathroom, you can create a luxurious space that you will never want to leave.
Bold tile, mid-century modern vanity lighting and gold cabinet hardware are just a few ways to take your bathroom design to the next level. Discover some of our favorite bathroom finishes that will help create a cohesive look and make your master bathroom even more luxurious.
Set the Mood with Designer Lighting
Bathroom lighting is multifaceted. It must provide illumination for performing daily tasks, such as brushing your teeth or shaving but it should also set the mood and promote relaxation when necessary. There is no such thing as a one-size-fits-all bathroom lighting solution, so consider what is most important to you when selecting your lighting options.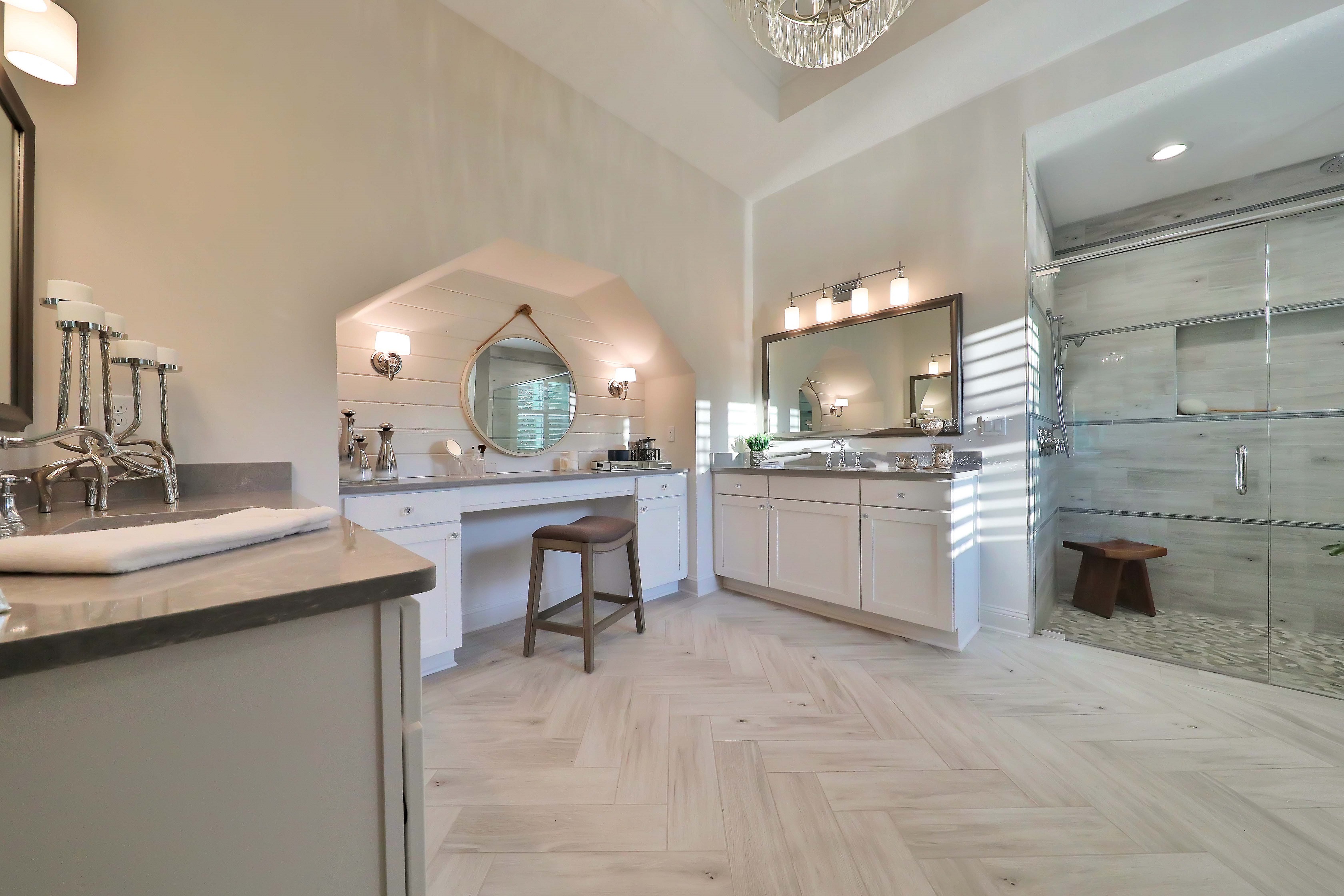 From the Cooper Model in the Twenty Mile Community.
Task lighting illuminates your workspaces. Just because these are functional pieces doesn't mean they can't be beautiful as well. This master bathroom features a Four-Light Bath & Vanity from Progress Lighting's Status Collection. This beautiful light collection offers crystal-like clarity to contrast the softened linen-finish glass shades. The polished chrome frame provides the perfect support to this elegant combination.
On the contrary, wall sconces are an excellent choice for vanity spaces as they will help illuminate your face from the side, eliminating harsh shadows from overhead lighting while applying makeup.
Decorative lighting can bring out your personal style and help you make a statement. A designer chandelier will add a touch of sparkle and sophistication complementing the other fixtures in your space.
Make a Statement with Custom Cabinetry and Hardware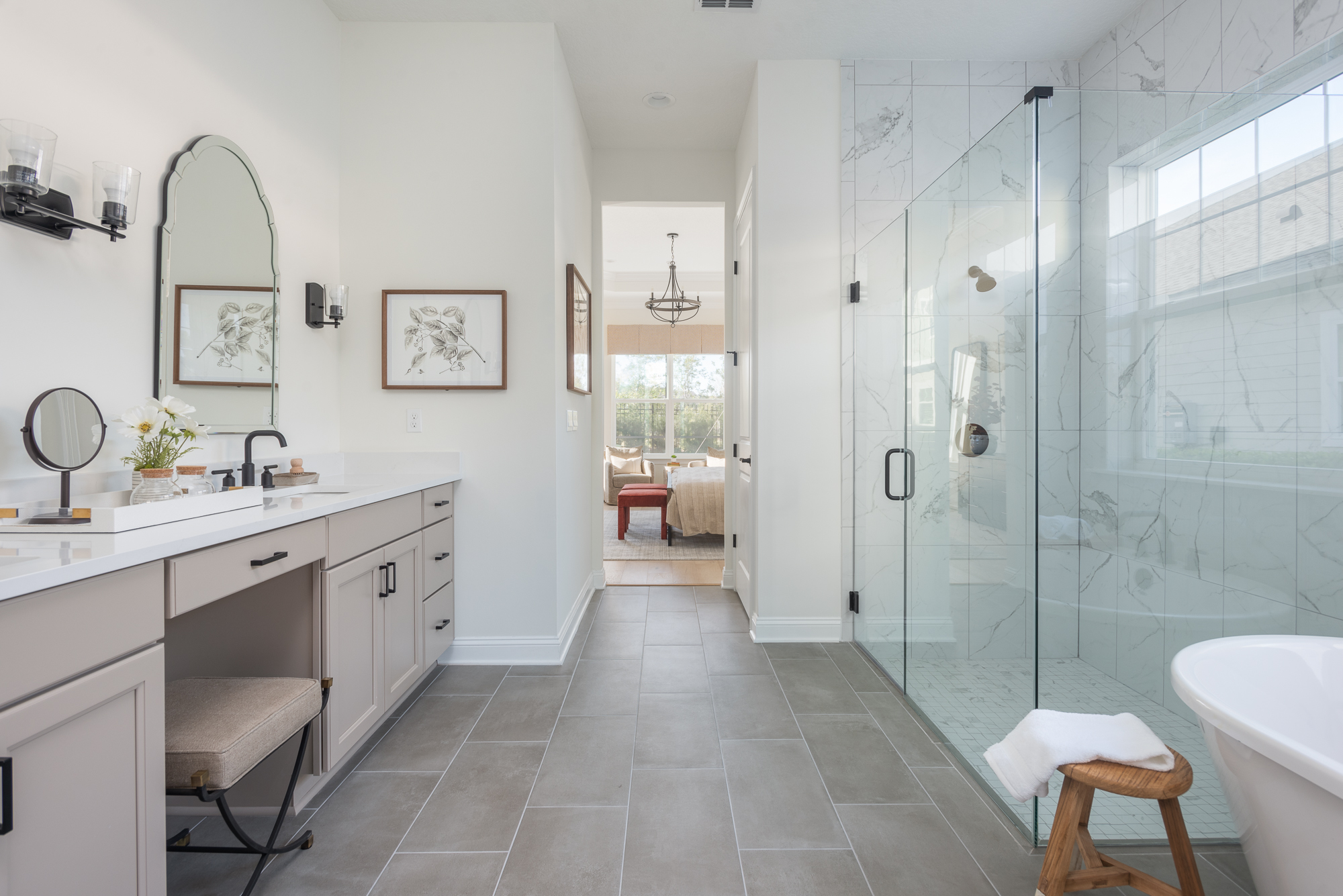 From the Acadia Model in the Crosswater Community.
Cabinets and hardware are functional components of a bathroom, providing storage for everyday items and they are a great opportunity to bring some personal flavor into the space.
When designing your dream home, select cabinetry that complements other elements of the space. This Powder Argent floor tile works well with the Pebble colored Millbrook cabinets because they both boast neutral grey undertones.
Add a stylish touch to your bathroom cabinetry with designer vanity hardware. Just as a piece of jewelry can accessorize an outfit, cabinet hardware will infuse your personal style into your bathroom design.
Cabinet hardware design possibilities are endless. Make a statement with glass knobs or add vintage flair with ring drop pulls. Our Acadia Model displays modern elegance by utilizing matte black hardware from Jeffrey Alexander Boswell on the Pebble colored cabinets.
Express Your Style in the Details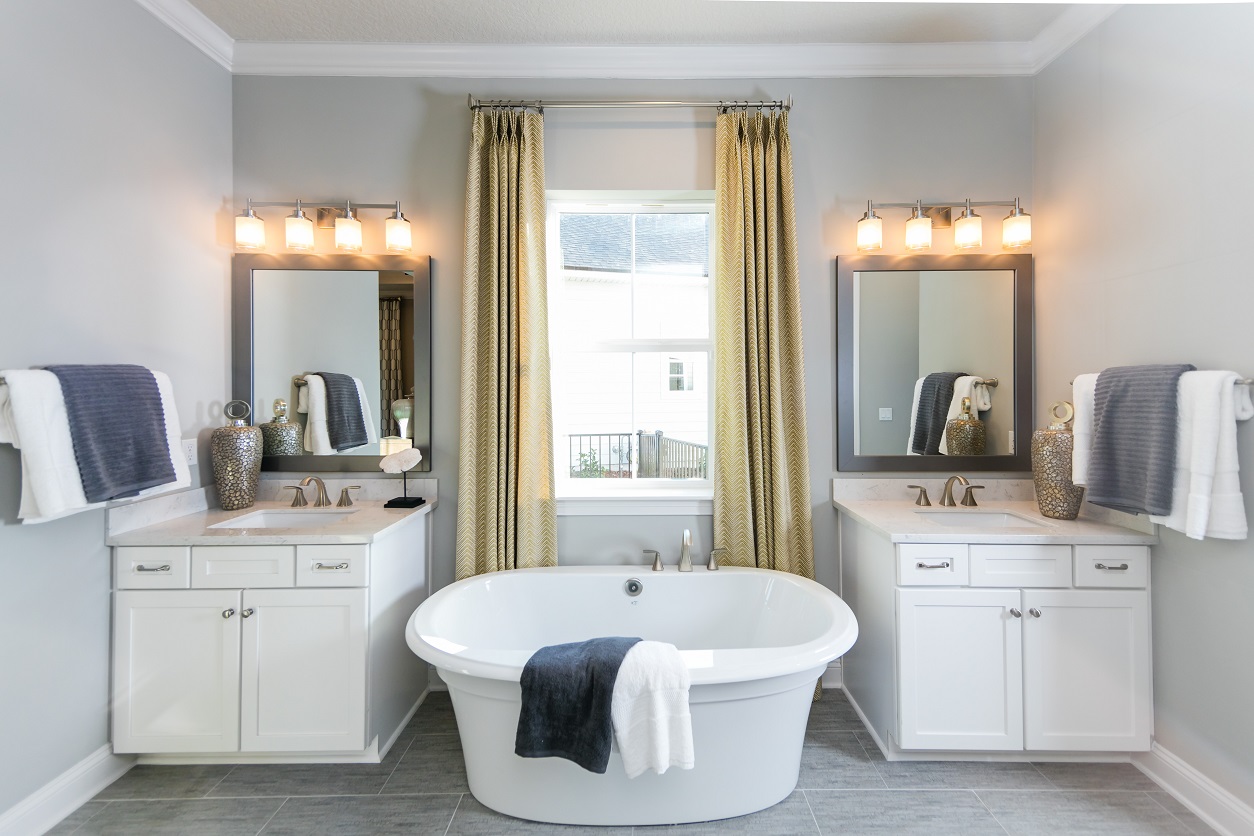 From the Hemingway Home in the Twenty Mile Community.
Choosing a bathroom faucet used to be simple and uninteresting. But today, there are so many beautiful options. Are you looking to make a statement with polished chrome or complement your white quartz countertops with matte black?
When making your faucet selections, you will want to match your plumbing suite with the tub configuration and your countertop color and material. Keep your entire bathroom design in mind as you will want to coordinate your faucet color with your cabinet hardware, towel bars and décor pieces.
Faucets in your bathroom may seem like such a small detail but they can make a huge statement.
Add a Touch of Class with Listello Tile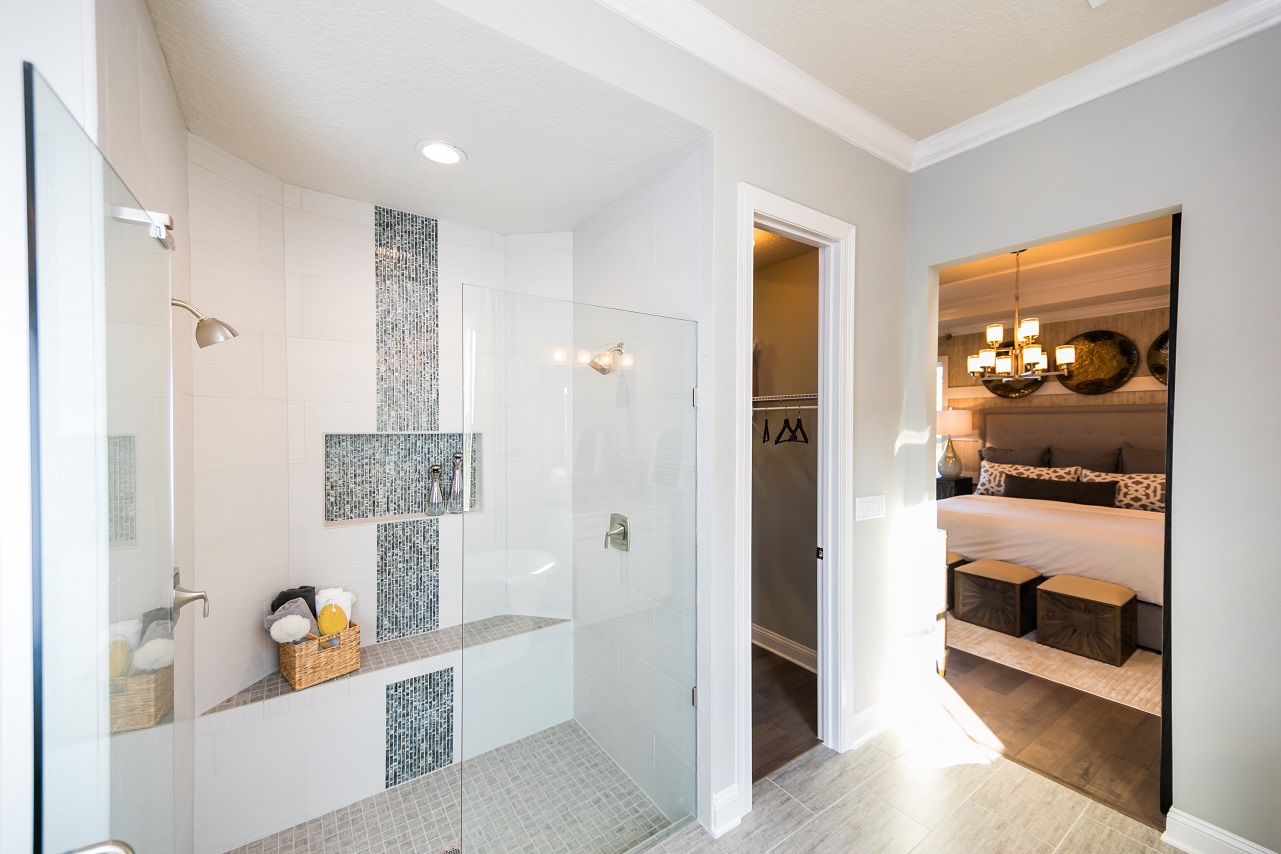 From the Hemingway Home in the Twenty Mile Community.
Decorative accent tiles are an excellent way to add color and class to your space. A listello tile is a band of border tiles, typically found in standing showers but can also be used on floors, kitchen backsplashes and other tiled areas of the home.
Adding a touch of color with a listello tile is a great way to add an interesting element to your bathroom without overwhelming your space. We love the way this listello is carried into the shower niche and runs from floor to ceiling.
< Back to Blog